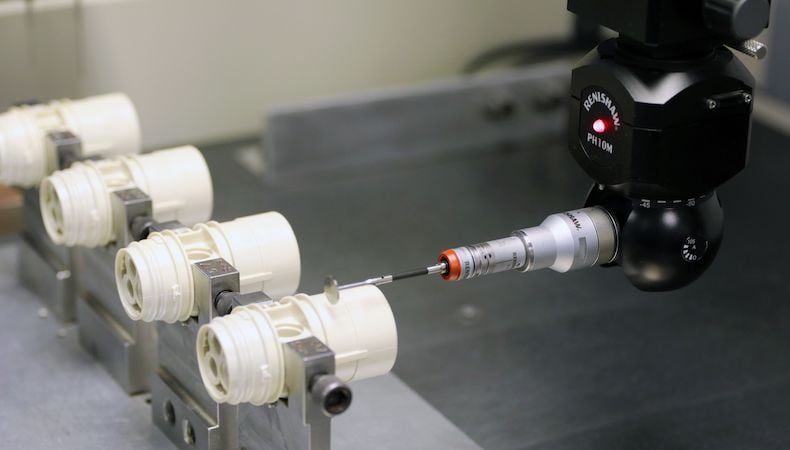 In theory and practice, industrial automation has been part of the U.S. manufacturing sector for decades. The data-driven world of Industry 4.0 and the Industrial Internet of Things (IIoT) has given rise to production lines attended by smart robots and technologies alongside their human counterparts — and a host of benefits. Enhanced injection molding process control, faster production and secondary operations, lower error rates, and safer workers all have some connection to automation.
Part quality control (QC) can also be partially attributed to automation, but it's not a given. Plastic injection molding quality engineering and quality control checks drive the results. A quality audit of your current or prospective custom injection molder can be instructive as to how plastic injection molding quality requirements are applied and managed for projects ranging from small runs to mass production.
A molder with an in-house quality lab demonstrates commitment to maintaining high plastic injection molding quality standards, and to the processes necessary to achieve them.
4 Things That Could Go Wrong Without Molder Quality Control Checks
Plastic injection molding quality engineering touches every aspect of a project. Without established molder quality control checks, manufacturers could run into some costly obstacles:
Kaysun Quality Lab: Cutting-Edge Tech and Testing Equipment
The pivotal role injection molders play in ensuring projects align with moldability, performance, and quality standards requires them to lean into the most advanced technologies and testing methods available.
The Kaysun Quality Lab brings cutting-edge technology, testing equipment, and molding experts together under one roof to facilitate quality control throughout all project phases. The ability to test proactively during development phases or reactively in response to production errors is a capability that few molders can offer.
Kaysun quality control checks entail engineers working independently or in cross-departmental collaborations to verify in-production process stability and product viability using the in-house Quality Lab for:
Moisture content testing that uses the Karl Fisher Titration method to expose visible and hidden structural defects and potential performance obstacles caused by plastics absorbing water. Moisture content testing can be achieved through weight loss inspections. However, moisture content percentage calculations generated using the Karl Fisher Titration method are typically more accurate since the test chemically reacts with water and ignores other volatiles. Dialing in moisture content is imperative because excessive amounts could vaporize during injection molding and cause bubbles, jet marks, or other defects.


Structural (destructive) and fatigue testing pinpoint the endurance of injection-molded parts, meaning the point at which applied stress or cyclical use causes part fatigue and failure. Using world-leading materials testing methodologies from Instron® in-lab and during strength testing on representative sample parts pulled from production lines gives Kaysun engineers keen insight into part performance and quality. It also informs their next steps — either qualifying specifications or adjusting materials to course correct prior to or during production. Destructive and fatigue testing are heavily relied upon — so much so, in fact, that injection-molded parts are deemed high quality when they pass this comprehensive control process.


CMM inspection measures the physical geometries of objects by probing for discrete surface points. Coordinate measuring machines (CMM) are designed to gather data that confirms or denies accuracy in part production as compared to the intended design specifications. In injection molding applications, criticality of tight tolerances often determines part manufacturability, quality, and performance. Checking the physical dimensions of a part instead of relying on visual inspection or conventional metrology is more precise, often faster, and less subject to human error.


CT inspection offers a nondestructive technique for dimensionally visualizing the interiors of injection-molded parts. Part features and structures are left fully intact during computer tomography (CT), and a variety of measurements are taken to gather scan data that engineers compare against the CAD model of the "ideal part." Variances give engineers insights into potential non-visible defects and corrective actions necessary to maintain part quality. Additionally, engineers can use CT inspection data to create files for building tools that wholly match the design specs and quality control metrics.
Without a quality benchmark, injection molding accuracy and precision become moving targets. Parts are subject to inconsistencies, defects, and failure. You could be facing a high-dollar spend with little — if anything — to show for it.
Use the Injection-Molded Part Quality Control Checklist to gain insights into how injection molding engineers use quality control checks to help you manage time, budgets, and outcomes. Click the button below to download your copy of this valuable inspection checklist.