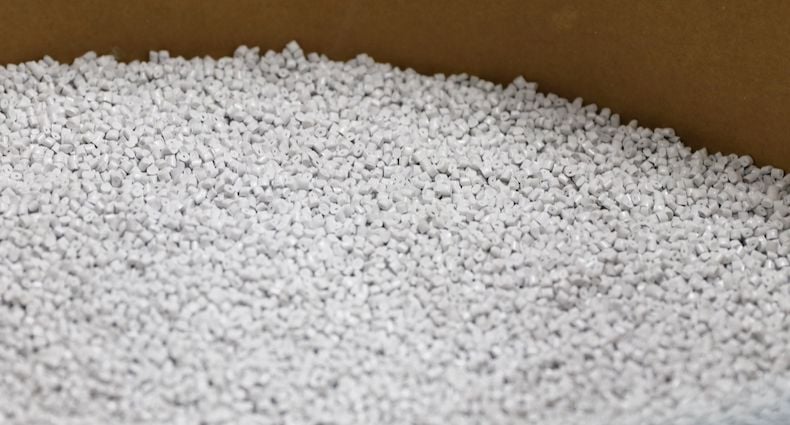 One of the main advantages of using injection-molded components is versatility in the plastics available for specific, often complex, applications.
Addressing plastics needs early in the design process is ideal, as is partnering with an experienced custom injection molder with plastics-specific expertise. Working together ensures the plastics have the characteristics needed for the job, and that materials-based complications will not arise during design and molding.
PLASTICS SELECTION
When choosing plastics you have to give equal weight to product end use, moldability, and performance throughout the injection molding process. Your injection molding partner's expertise in plastics and Design for Manufacturability (DfM) analysis is imperative in guiding you through key considerations, such as:
Plastics type: Amorphous (e.g.,

polycarbonate, acrylic, PETG, ABS, and polysulfone) or semi-crystalline (

e.g.,

n

ylon and acetal)

Part characteristics: Size, shape, wall thicknesses, tight tolerances, and the like can increase the likelihood of part defects should plastics not align with required geometries
Part strength and flexibility: Knowing how plastics react to stressors — including chemical and environment factors — impacts and optimizes part functionality
For instance, if your plastic component will be continuously exposed to the extreme heat of a tooling or cutting operation, you might choose polyether ether ketone (PEEK).
In working with expert custom injection molding engineers to identify the complexities of the project design, tooling, and molding, you may discover design changes are needed so PEEK performs to project expectations. Since PEEK is not as fluid as other plastics, its behavior during the injection molding process needs to be taken into account in the component design.
This illustration demonstrates how plastics selection impacts all aspects of an industrial project, and how quickly a seemingly good solution could add unanticipated expense, bias outcome, or completely derail a project.
the cost factor
Understandably, cost is a factor in plastics selection. However, making it the sole focus could be detrimental to part functionality and longevity — which could lead to time-consuming injection molding process rework, warranty claims, litigation, and irreparable harm to your brand and reputation.
Finding the appropriate plastics at the appropriate price point — without jeopardizing part performance — is best accomplished with the help of an experienced custom injection molder. Their plastics expertise lends itself to understanding general cost ranges and the plastics that fall into each category, such as these examples:
Lower price range: High density polyethylene (HDPE), polypropylene (PP)
Mid-price range: Acrylonitrile butadiene styrene (ABS), polyvinyl chloride (PVC)
Higher price range: Polycarbonates (PC), polyether ether ketone (PEEK)
Proper design and production of injection-molded parts for complex applications hinge on strategic partnerships with experienced custom injection molders and insightful resources like Plastics Selection for Industrial Applications. Click the button below to access your copy of this valuable guide now.