Consumer and industrial markets cover a wide range of products, ranging from personal care to sports equipment to gears, pumps, electrical housings, and other vital parts for industrial applications. Although these products are incredibly diverse, they all rely on the same thing—injection-molded, critical-use, complex plastic parts.
Using Injection Molding to Think Outside the Box
Injection molding has never played a greater role in freeing product designers to think "beyond the box." Advances in technology have allowed engineers to create more innovative designs for their products that were not practical to consider before. Then they come to us and ask us to make it happen.
These projects are especially exciting because they challenge us to be equally creative. We work closely with clients to understand end use. We make recommendations regarding the best engineered resins that will provide the functionality the engineers are looking for. Sophisticated modeling programs and design for manufacturability studies help us determine the best possible design, mold, and process. As a result of this collaboration, we can often make the initial designs even better, resulting in a final product that is stronger, longer lasting, and less expensive.
Our Expertise and Experience in Material Science Sets us Apart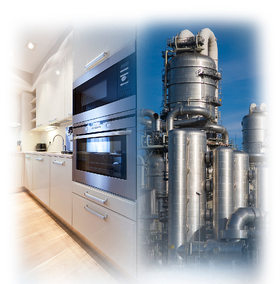 Our deep knowledge of material science, combined with our ability to push the edge of injection-molding science, allows us to make critical-use, complex plastic parts with tolerances as tight as .001 inches. Overmolding is an injection-molding technique that is especially beneficial for consumer products because it creates a smooth, softer exterior of high visual appeal that also increases ease of use and reduces vibration and shock. Our engineers can also replace metal parts with highly engineered, plastic parts that are lighter weight and more flexible, increasing performance and functionality.
Your Injection Molding Partner
When you partner with Kaysun, the job doesn't end after we manufacture the part. Our services cover the full life cycle of the product, from plastics design through assembly and packaging. By doing so much under one roof, we add value to our client relationships by shortening their supply chains, improving quality, and speeding up time to market. Learn more by reading our Versa Matic client case study.