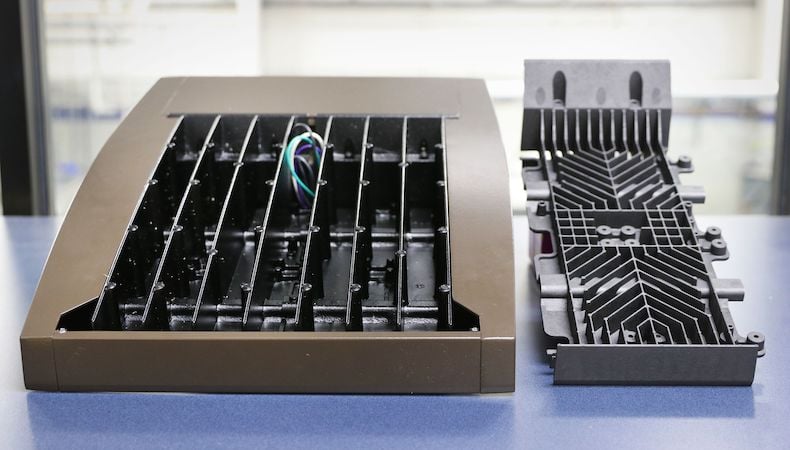 OEMs across industries and disciplines continue to leverage the benefits of metal-to-plastic conversion. Faster manufacturing cycles and higher volumes — without compromising tight tolerances or durability — make plastic parts attractive alternatives.
Advantages TO Metal-to-Plastic Conversion
Plastic parts typically weigh up to 50 percent less than their metal counterparts. This helps certain OEMs bring products into compliance with specific mandates, such as the light weighting that occurs in the automotive industry.
However, on the whole, metal-to-plastic conversion aids OEMs in all industries. It is a smart strategy to significantly reduce total manufacturing costs, largely because of the availability of more than 25,000 engineering-grade plastics.
The breadth of plastics makes it easier and more effective to select or create custom-blended plastics for specific characteristics and application performance requirements. In turn, OEMs that use metal-to-plastic components get highly engineered plastic parts that provide:
Tensile strength comparable to metal

Reduced part weight

Highly repeatable process (less scrap)

Enhanced regulatory compliance

Greater design flexibility

Increased market stability for material cost

Lower packaging and shipping costs
Perhaps the most exciting advantage of metal-to-plastic conversion is the design freedom it provides engineers. They can think in more creative ways about complex geometries, performance in harsh environments, shielding considerations, weight and structural limits, thermal management, and product differentiation — both in performance and how it looks on the shelf.
Cost Reduction Benefits
In general, OEMs can expect to achieve an overall cost savings of 25-50% by using metal-to-plastic conversion.
With plastic parts, multiple components can be combined into a single molded design. This eliminates costly secondary assembly and welding necessary with metal components.
Also, metal parts often need painting, grinding, reworking, and other finishing operations to boost aesthetic appeal and/or functionality. On the other hand, plastics are readily available in a variety of colors, surface finishes, and textures — streamlining and enhancing aesthetics without adding substantial expense.
Material Development Influences Decisions
Plastics continue to evolve in strength, characteristics, and versatility. As such, OEMs are leveraging the benefits of metal-to-plastic conversion for complex applications with the help of experienced custom injection molders like Kaysun.
With full in-house testing and analysis capabilities and deep plastics expertise, Kaysun can help you comply with regulations, lower total costs, and reduce product weight while delivering improved design, flexibility, and performance. Learn more in our white paper, Metal-to-Plastic Conversion: Revolutionizing the Manufacturing Process. Click the button below to download your copy now.