Industrial Injection Molding Experts
Industrial markets are incredibly diverse. Products include gears, pumps, LED fixtures, electrical housings and other vital parts for industrial applications. These vary greatly in terms of complexity, yet the majority rely on the same thing — custom injection-molded plastic parts.
Using Injection Molding to Think Outside The Box
Injection molding gives product designers and engineers license to think "outside the box." Advances in technology continue to lead to design and product innovations that were previously considered impractical. Plus, greater reliance on injection molder partnerships result in OEMs converting forward-thinking concepts to finished products.
Collaboration is the key to creative solutions. Injection molders that are willing to truly partner with an OEM to understand the dynamics, parameters and end use of a project are better positioned to help product engineers make informed choices. This is especially true when insights are paired with a breadth of specialization in sophisticated modeling programs and methodologies such as Design for Manufacturability (DfM).
Working together toward the best possible design, tool, and process helps OEMs take stronger, longer lasting, and less expensive products to market faster. These resources demonstrate how:
Material Science Expertise and Experience Sets Kaysun Apart
Kaysun combines deep knowledge of material science with thought leadership and co-engineering opportunities to make custom injection-molded parts with tolerances as tight as +/- .001 inches. Further, our expertise in plastics' characteristics and performance provides a wider range of solutions for industrial product challenges, including:
Overmolding
Creates a smooth, softer, and visually appealing product exterior, increases ease of use, and reduces vibration and shock. These resources provide detailed information: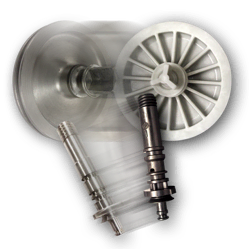 Metal-to-plastic conversion
Transitions metal parts to constructions of highly engineered, plastic parts that are lighter weight and more flexible for increased performance and functionality. Check out these resources for more:
A Value-Added Partnership
When you partner with Kaysun, the job doesn't begin and end with manufacturing the part. Our services cover the full life cycle of the product, from plastics design through assembly and packaging.
By offering so many value-added capabilities under one roof, we help our customers control product development costs, shorten their supply chains, improve product and process quality, and get to market faster:
What Our Customers Say

Our success is directly related to the overwhelming commitment of talent and resource from the entire Kaysun team. They are professional, capable and easy to work with. During these unprecedented times, the Kaysun team worked countless hours to keep us informed and used their considerable supply chain experience and industry influence to procure sufficient resin so we could meet our commitment to customers to "Keep the Lights On."
Sourcing Manager
Industrial OEM
Recent Industrial Blog Articles