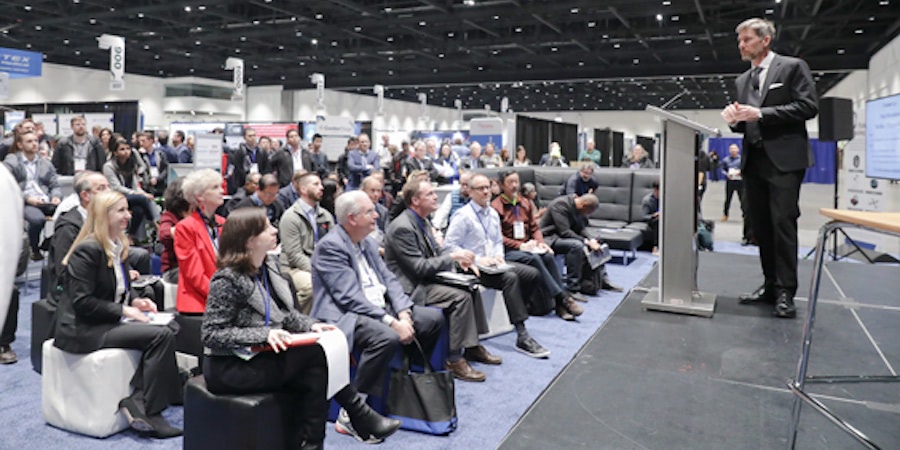 On April 12-14, 2022, the Anaheim Convention Center (Anaheim, California) will play host to the 13,000 attendees and 1,400 exhibitors of Medical Design & Manufacturing (MD&M) West 2022.
More than 70 countries will be represented at MD&M West 2022. The event continues the tradition of bringing together medtech engineers, business leaders, disruptive companies, and innovative thinkers to explore powerful solutions in operations, technologies, and processes. As part of the larger expo, MD&M is joining with four other trade shows to form a Smart Event, which gives attendees access to online resources and exclusive touchpoints.
True to MD&M's longstanding commitment to progress, the "Discover. Engineer. Build." theme of MD&M West 2022 provides ample opportunities for you to learn what's happening in the medical design and manufacturing space. Networking, new technology launches, live product demonstrations, and access to medical injection molding expertise at Kaysun Booth 2094 are just some of the opportunities that await you on the 300,000-square foot expo floor.
MD&M Content Topics — 5 Educational Sessions You Don't Want to Miss
A robust lineup of 120 content sessions including prime keynotes, workshops, and presentations from the top names in the industry are scheduled throughout the duration of the conference. Search by presentation name for dates, times, and locations so you don't miss these 5 compelling educational sessions:
1. Global Supply Chains in Chaos – Why Reshoring Is the Smart Path Forward
The chaotic impact of the pandemic and geopolitics have led to shortages of industrial and consumer goods, skyrocketing logistics costs, factory shut-downs, shifting supply chains, and inflation. Unfortunately, the chaos isn't likely to subside anytime soon. Many American companies have identified supply chain risk as a top priority to mitigate, including re-thinking their global supply chains. As a result, reshoring has become a hot topic for companies sourcing and manufacturing overseas. Global supply chain strategies must evolve.
2. Panel: Supply Chain Resiliencies – Understanding Risks and Developing Mitigation Strategies
Over the past two years, every manufacturer muscled through supply chain challenges and learned lean inventories just didn't work. Supplier relationships were pushed to their limits and leaders experienced how quickly instability can occur in their operations. As a result, boardroom conversations quickly switched to how will we manage supply chains differently? An MD&M panel of industry experts discuss how to anticipate, prepare, respond, and adapt to disruptions while maintaining continuous business operations and safeguarding people, assets, and operations.
3. Translating Regulatory Requirements to Improve Quality Systems: What Engineers Must Know
The medical device industry is a regulated and controlled industry. 21 CFR 820 and the European Medical Device Directive are just some regulations controlling the medical device industry. Alongside, many companies follow ISO standards, including ISO 13485:2016. Engineers designing and manufacturing medical devices must navigate these regulations and ISO standards. This session will focus on translating guidance and ISO standards into understandable, definable, and actionable tasks and requirements that need to be accomplished when designing and manufacturing a medical device. This session will also discuss the role of quality systems in the design and manufacture of medical devices.
4. Outsprint Your Competition to Market Launch by Streamlining Your Collaboration Roadmap
Traditional "waterfall" approaches to new product development are no longer viable as new technology drives the pace of medtech devices faster than ever before. Device companies must move toward higher levels of collaboration in order to reduce time-to-market schedules, coupled with revised strategies on product specifications and iterations to reduce scope, risk, and ultimately time.
5. Designing with Biomaterials for Better Medical Outcomes
Medical device design decisions have enormous implications and consequences, especially as they relate to the process of innovation, FDA-clearance, and commercialization in medical technology today. Engineers and product designers must be prepared to better identify opportunities and produce positive outcomes, including expanding plastics selection to consider alternative and emerging biomaterials.
More To Explore for the Medical Injection Molding Community
A broad spectrum of MD&M West 2022 topics of particular interest and impact to the medical injection molding community are slated. Search by presentation name here to access speaker bios, presentation dates, times, and exhibition floor locations:
Keynote: The Science of Predictive Healthcare and the Role of Nanopolymers and Medical Plastics
Developing Cost Effective and Reliable Plastic Medical Products
Advanced Molding Technologies That Enable Reduction in Plastic Consumption and Waste
Recent Trends in Balancing Regulatory and Supply Chain Pressures with Design Flexibility for Medical Device Materials
Lightning Panel: Advanced Materials Developments
The Importance of Materials Selection When Designing Medical Enclosures
New Glass Fiber Reinforced Medical Grade PBT for Complex Mechanical Drug Delivery Devices
Solving Drug Delivery Devices Material Challenges with High Performance Polymers - Two Next-Generation Device Concepts
Accelerated Physical Aging of Medical Grade Polycarbonates
There's a lot to learn about and see at MD&M West 2022, including the design, engineering, and medical injection molding expertise available at Kaysun Booth 2094. Until then, we invite you to read about how Kaysun's Design for Manufacturability (DfM) expertise and collaborative approach helped an OEM fix design flaws, optimize materials use, and cut cycle times by 7 seconds. Click the button below to access the full case study now.