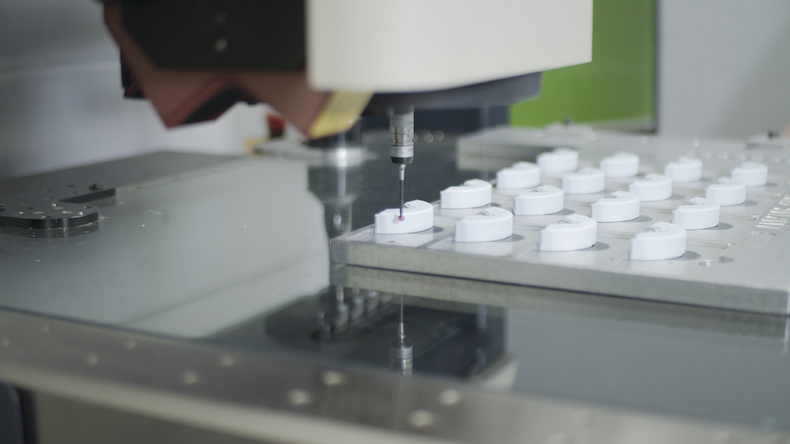 When you operate at the top of your game, reach higher.
Kaysun had already shown its commitment to excellence through its many certifications:
ISO 13485:2016 (to produce injection-molded components for medical devices)
IATF 16949:2016 (the quality management system standard for the automotive industry)
ITAR (International Traffic in Arms Regulations)
These certifications denote injection molding expertise within key industries. Yet, there are always ways to enhance already robust processes, even if few other U.S. injection molders can do it.
Not only did Kaysun achieve (and has since kept) MedAccred plastics accreditation — the industry-managed supply chain oversight program managed by the Performance Review Institute (PRI) — we've enhanced team member engagement, quality processes and systems, and relationships with medical device companies as well.
MedAccred accreditation pays off for Kaysun
Several target customers and prospects in the medical device sector advised that Kaysun become MedAccred accredited to be considered for partnership, so we did, joining an elite group of medical injection molding companies and further differentiating the business.
Properly serving the medical industry requires specific expertise that not many plastic injection molders have. Being recertified every year moving forward assures medical OEMs of Kaysun's consistent focus on patient safety and high quality standards.
As noted in PRI's case study, since 2020, Kaysun has "improved its production processes, gained the confidence of its prospective customers, and grown the medical side of its business by 14%."
By enhancing processes/systems to align with the strategies and demands of medical OEMs, we have opened doors with prospective medical device customers.
Kaysun Quality Manager Ray Dorow explains it this way: "Being a value-added medical OEM partner means leaning into efficiencies that streamline the production process while also surpassing the highest expectations for injection molded parts. MedAccred accreditation signals Kaysun's recognized ability to accomplish these goals within the medical market and to apply those capabilities during part development for other, non-medical, industries."
Objectively measuring quality after MedAccred accreditation
As mentioned previously, Kaysun has always focused on quality, however MedAccred elevated awareness of quality throughout the company. We strengthened infrastructure (quality assurance, metrics, and documenting engineering and process development), leading to a holistic review of the molding process, adding aspects in validation, and correcting issues prior to formal production.
Going through the MedAccred accreditation process also shifted our cultural mindset. Prior to MedAccred, detailed documentation and handling of medical device complexities were seen as a necessary function. Now, quality processes and products are seen differently.
Dorow clarifies: "With MedAccred, all levels of team members understand the 'why' behind our approach to a particular medical device and the need for proper validation, documentation, and quality control. The greater awareness has cultivated a culture of continuous improvement, collaboration, engagement, and pride in owning all aspects of each project."
Medical OEMs benefit from working with a MedAccred accredited molder
A custom injection molder with MedAccred plastics accreditation is rare. It shows medical manufacturers that this particular injection molder has proven expertise in:
Improving product quality and reducing recalls and warranty claims
Maximizing vendor partnerships and supply chain management
Meeting stringent process/product requirements
Increasing a focus on patient safety and limiting OEM litigation/liability exposure
For Kaysun, positive outcomes of the MedAccred program include:
Proactive planning
Production process that are structured, stable, and repeatable
Medical device manufacturing program efficiency
Enhanced scrap management
More customer confidence
An already high commitment to excellence — shown through numerous certifications — is now elevated. Achieving MedAccred plastics accreditation for 3+ years proves that Kaysun is committed to excellence, giving medical OEMs utmost confidence in this medical injection molding partnership.
Speaking of partnerships, an experienced injection molder should guide all aspects of the manufacturing process. Our tip sheet, Injection Molding Project Considerations Part 2: Production, shows how to leverage a trusted partnership during production. Download your copy by clicking the button below.