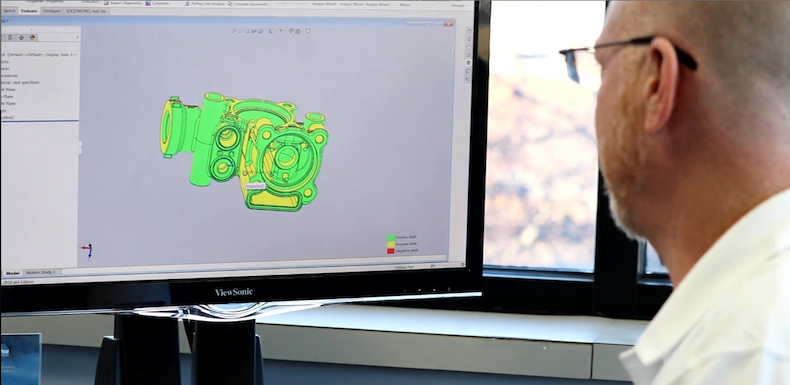 Identifying and addressing problems early in the injection molded product development process prevents costly issues that could impact manufacturability: plastics selection, tight tolerances, and secondary operations. Fortunately, two methodologies — DfM and FMEA — help manage injection molding risk.
First, we need to explore the meaning of DfM. Design for Manufacturability (DfM) is the process of consciously and proactively designing products to optimize all facets of manufacturing. It aligns engineering and production in the design phase, ensuring cost and time efficiencies, superior quality, regulatory compliance, and end-user satisfaction.
Maximizing DfM's benefits depends on prioritizing Failure Mode Effect Analysis (FMEA) within the larger plastic part analysis to assess risk probability. FMEA is but one example of the technical expertise required to successfully execute DfM for complex applications. It also underscores the importance of partnering with an injection molder experienced in DfM to reap the following benefits.
1. INCREASED CONFIDENCE IN THE DESIGN PROCESS
Detailed design is focused on both the shape and tolerance of a part. The ability to apply DfM to shape depends on processes that incorporate design standards or advanced systems. Tolerance needs to be determined based on its effect on a part's function.
Be it design process or plastic part analysis for tolerance verification, intentionally anticipating failure heads off wasted time and spiraling costs. FMEA is essential for the identification of risk probability, problems, and fixes. Design and product reliability is the goal. FMEA helps engineers evaluate, document, and prioritize corrective actions for failure modes.
DfM injection molding means controlling risk probability in the design phase through DfM — and FMEA in particular — which promotes confidence in every stage of the process, from design and development to production.
2. TECHNICAL SPECIFICATIONS ALIGNING WITH PROCESS CAPABILITIES
Moldfill analysis uses tool simulation software to analyze and predict plastic flow and cooling during all phases of the injection molding process. Understanding how plastic behaves within the tool ensures part design elements — wall thickness, draft, gate locations, geometries, etc. — are appropriate for the component and OEM goals.
Different analytical software is available. Selecting the right program for each project can help maximize production efficiencies, process improvements, and provide opportunities for adjustments to enhance part quality.
3. REDUCTION IN CHANGES AFTER TOOL BUILD
Reducing costs by managing the number of post-tool build changes is one of the greatest advantages of DfM analysis. Testing results provide the insights injection molding engineers need to help manufacturers save time and money by:
Identifying potential part moldability issues and solutions during the design phase
Simplifying tooling
Reducing molding cycle times
Minimizing changes after tool build is all about finding practical solutions to project impediments that could jeopardize successful outcomes.
4. FEWER COMPONENTS, LESS COST, SIMPLIFIED FABRICATION
Using the fewest number of components in a device/machine reduces required materials, ordering frequency, and overall automation costs. Plus, it streamlines inventory logistics and makes end-user field service easier.
DfM provides opportunities to make materials substitutions and simplify part fabrication and assembly, all of which contribute to cost efficiencies. Simply put, carefully considered part geometries and the elimination of unnecessary features or secondary operations enhance part quality while driving down per-part prices.
WHO BENEFITS MOST FROM DFM?
The benefits of DfM are appreciated across industries and throughout various businesses. However, DfM's upfront analysis and value is most obvious within the new product development process:
Design engineers who may not be familiar with plastic part design gain the most from collaborating with an injection molder with proven DfM capabilities. Having (and sharing) professional expertise and technology quickly and efficiently elevate the communication between engineers, which is vital to the project's overall success
Buyers and purchasing/sourcing professionals use DfM for estimating price per part and overall manufacturability. Design aspects can be optimized to decrease costs and help create a production schedule
Pay attention to the "sweet spot" for when to perform DfM analysis: when the part is far enough along in design that its functionality is well understood and a basic part structure exists. Typically, a 3D model (CAD file) is available to get the review started and make any changes prior to general sourcing.
WHY LOOK TO KAYSUN FOR DFM GUIDANCE?
Whether your application is for medical, automotive, or another industry, a DfM study by an experienced injection molder is a must-have step in the process. Upfront feedback goes a long way to help nail project specifications and manage costs.
Yet remember, the best DfM analysis isn't a procedure, it's a solutions-focused collaborative partnership. That's why Kaysun takes a full team approach to DfM injection molding: toolmakers, manufacturing engineers, Coordinate Measuring Machine (CMM) technicians, tooling engineers and designers, and quality engineers.
As an industry leader in DfM and FMEA analysis, Kaysun knows the processes necessary to achieve a successful new part design. We make sure our deep knowledge base aligns with your needs for a smooth process.
Learn more about how Kaysun DfM expertise and a collaborative approach achieved desired results for an OEM facing metal-to-plastic conversion challenges in our case study, Design for Manufacturability (DfM) Enhances Injection Molding Outcomes.