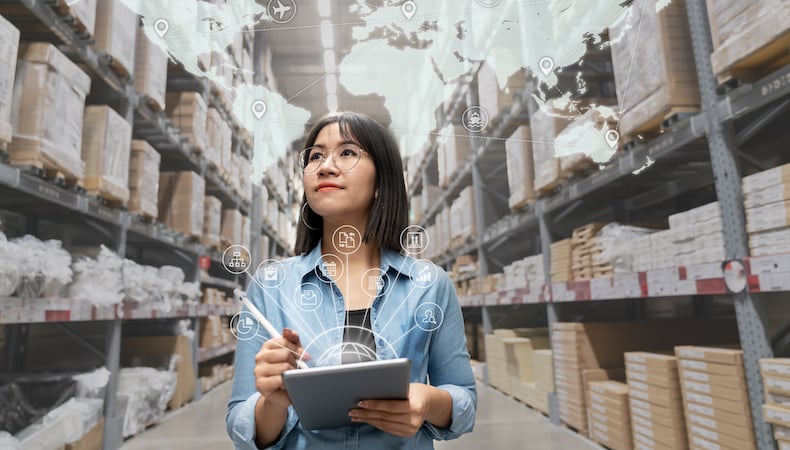 Supply chains are vital in any industry, yet they can be vulnerable to devastating disruption. The current supply chain upheaval drives the point home, but it should also give you pause.
Are you working with suppliers that can accurately pinpoint sources for every material, process, and shipment related to your orders and getting products to market? In turn, can you use this information to confidently manage your projects, vendors, and business? These questions — and answers — are crucial in understanding if you're leveraging the benefits of supply chain mapping.
What's a supply chain map?
A supply chain map is a physical representation of the vendors you have in place to help you source and process materials and, ultimately, pack and ship finished products. It provides detailed information about the vendors including country of origin and, in the case of a supply chain process map, a clear understanding of the global flow of goods, information, and processes.1
This snapshot is vital for supply chain management within day-to-day operations. However, it takes on added importance when supply chains are broken or proven susceptible to risk when unforeseen circumstances arise.
Key benefits of supply chain mapping
Supply chain mapping is advantageous to decision makers when unanticipated and far-reaching events like COVID-19 swiftly change the global landscape. It allows for proactivity around:
Supply chain visibility and transparency that demonstrates knowledge of product and material origins and paths, and that sets expectations for vendor responsibilities1
Risk mitigation that identifies potential risks within the supply chain — such as countries of origin that are at higher than average risk of natural disasters — and aids in developing strategies to pivot away from threats2
Regulatory and legislative compliance to ensure specific industry standards are accurately and consistently met and documented1
Value management through identifying where quality issues such as defective raw materials or undue delays could be costing you money or, alternatively, how vendor performance may maintain quality, and add speed and value3
Responsible sourcing to preserve and promote OEM commitments to ethical, sustainable, and socially conscious practices1
Competitive advantage by identifying, acknowledging, and resolving supply chain issues before they become counterproductive to production and delivery time to market2
The vendors behind the vendors
Knowing how to "draw" a supply chain map also provides a glimpse into the relationships your vendors have with their vendors, and how those relationships are managed.
Ideally, your supply chain is made up of vendors that also use supply chain mapping. Why? It's like a double layer of risk protection and actionable problem-solving, should the need arise.
As a preferred custom injection molder to global industries, Kaysun is a proponent of supply chain mapping. The due diligence has proven valuable in helping OEMs deal with pandemic-related challenges, and in handling unrelated but equally problematic events such as February's Storm Eunice. The extratropical cyclone cropped up amid Europe's windstorm season and wreaked havoc on Southern England, Wales, and the Midlands.4
Storm Eunice put a resin supply order for one of Kaysun's customers at risk of cancellation. Often, it's a matter of waiting for the storm to dictate outcome and leaving the customer to guess at next steps.
However, thanks to supply chain mapping, the Kaysun team knew the country of origin and could monitor weather developments. It also allowed for proactive communication with the UK-based resin supplier to check order status, and timely updates to the customer to mitigate risk.
The benefits of supply chain mapping are operational, tactical, and instrumental in building solid vendor relationships that help you in other areas. Learn more in Supply Chain Mapping for Injection Molding Project Success. Click the button below to download your copy now.


SOURCES
1Sedex, Supply Chain Mapping (Why it's important) | Sedex, October 7, 2020
2Achilles, 5 reasons organisations need to map their supply chains - Achilles, Undated
3American Express, What is Supply Chain Mapping and Why is it Important?, February 4, 2022
4Wikipedia, Storm Eunice - Wikipedia, February 2022