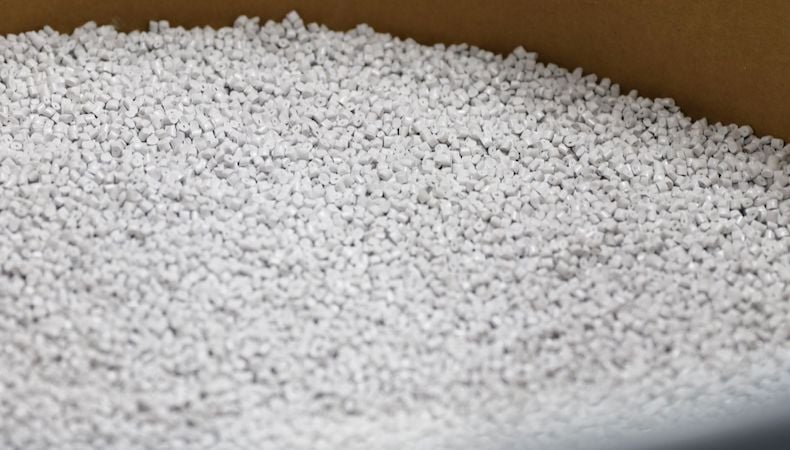 Viewing 2021 through the lens of the resin shortage, the year went out much like it came in.
Q4 found commodity resins polypropylene (PP) and polyethylene (PE) available in greater quantities at lower prices.1 However, for many manufacturers, custom injection molding partners, and other supply chain vendors, the late-year good news was overshadowed by resin shortage challenges that will likely continue to pervade the plastics industry in 2022.
Additives add cost and pressure to OEM supply chains
While the supply-demand-cost pendulum may be swinging for some commodity resins, highly engineered resins aren't necessarily finding that same balance. Resins containing glass fibers, flame retardant properties, or UV additives remain constrained. The demand for these specialized resins alone puts pressure on OEMs supply chains, but it may not be solely an issue of allotments.
In the case of glass fiber, suitable quantities may be available but manufacturers in force majeure are adding glass surcharges onto orders. Absorbing the cost is a difficult but necessary decision for many manufacturers, but making it doesn't necessarily guarantee order fulfillment. Transport of glass fiber requires special containers — and containers of any sort are in short supply, meaning material could remain in limbo during 2022.
The resin shortage includes steel and rubber
The plastic resin shortage doesn't preclude materials needed for specific injection molding value-added services. Insert molding depends on rubber and steel — raw materials that are scarce and often quickly bought up by the automotive and construction industries.2,3 Couple scarcity with the omnipresent transportation bottlenecks and pricing volatility, and typically time- and cost-efficient insert molding could be out of reach for custom injection molders and supply chain partners.
Supply chain partners contend with lagging logistics — and more
Much has already been said about ongoing logistical concerns. Even if resin production resumes at a modest pace, a lack of containers, truck drivers, and other transportation needs may well curtail availability.
Moving resin from Point A to Point B is understandably a priority, but another concern seems to be trending upwards. Counterfeiting has crept into supply chains. Inferior raw materials and resins, pirated designs, substandard components, and other deceptive products and services are increasing in overseas markets.
Diligence is required. OEMs that place orders in good faith — particularly with overseas vendors — may wind up with injection molded parts they can't use, and no wiggle room in compressed delivery timelines to find resin alternatives or otherwise rectify errors.
These scenarios could play out more in 2022 if supply and demand continue to collide. Preventing counterfeiting from further disrupting business shines a light on OEM supply chains. Are injection molders vetted? Certified? Proven? The partners chosen must be all these things — plus experts in design, engineering, and materials — to ensure quality outcomes.
Reshoring reappears in OEM supply chain management
A lack of consistent part quality is only adding to what many in the industry feel is a resurgence in reshoring. Placing projects with U.S.-based vendors gives OEMs a measure of control in quality, accessibility, and total cost of ownership (TCO) absent in many overseas injection molder relationships, as evidenced in resin shortage missteps. OEMs weighing the cost of higher initial investment in domestic vendors against the debatable savings of overseas vendors will likely continue to opt for reshored, streamlined OEM supply chain management as 2022 unfolds.
The resin shortage has proven to be a cautionary tale in OEM supply chain management and selection of supply chain partners. Offset the unpredictability of the resins market with custom injection molder expertise and guidance detailed in Checklist: OEM-Molder Strategies for the Resin Shortage. Click the button below to download your copy now.
SOURCES
1Plastics Today, Resin Report: Buyers in Holding Pattern, Anticipating Lower Prices | plasticstoday.com, November 21, 2021
2Newsweek, How Are Car Tire Supplies Affected by the Resin Rubber Shortage?, November 6, 2021
3CNBC, How a U.S. steel shortage created a market bubble, October 7, 2021