"Kaysun Delivers the Performance and Quality We Are Looking For"
One of the most advanced manufacturing sectors in the U.S. today is the automotive industry. In its efforts to improve safety, increase fuel efficiency, use alternative fuels, and reduce environmental impacts, automotive manufacturers are relying more than ever on injection-molded plastic parts and products to achieve these goals.

That's why engineers from major automotive OEMs count on Kaysun to solve their toughest design challenges—these include material selection and performance, design for manufacturability, prototyping, mold design, tolerance, and quality control.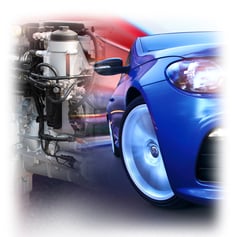 As automotive industry injection molding technologies continue to advance, parts are becoming increasing complex in design, with tolerances as tight as .001 inches. Depending on end use, many of these plastic parts and products must withstand harsh, under-the-hood operating environments. More than 25,000 resins are available today that have been engineered to provide specific physical characteristics such as strength, flexibility, temperature, corrosion, and UV resistance. Kaysun engineers share their in-depth knowledge of material science to help clients select the best plastic for achieving their performance goals (and staying in budget).
As a result, Kaysun manufactures complex parts and products that are critical to the performance of braking systems, cooling systems, fuel delivery systems, and the powertrain. The details for these products are often determined through design for manufacturability studies. Getting Kaysun involved early in the process allows us to use our extensive material science and injection molding knowledge to design and manufacture the best possible product, in the most efficient way.

Developing and

Designing

Tight Tolerance Custom Parts for the Automotive Industry for over 60 years
We are also experts at metal-to-plastic conversion. This innovative method allows OEMs to reduce vehicle weight and increasing fuel efficiency by replacing heavy metal parts with identical but lighter weight plastic components that are just as durable. This helps OEMs meet emission requirements and reduce overall operational costs.
Mission-critical automotive part manufacturing is increasingly complex to design and must meet exact performance standards to provide a safe driving experience. Using advanced technologies, best practices, and sophisticated quality control systems allows Kaysun to provide cost-effective solutions for the toughest automotive engineering challenges.
Count on Kaysun to drive your product quality. Click here to contact one of our engineers today.