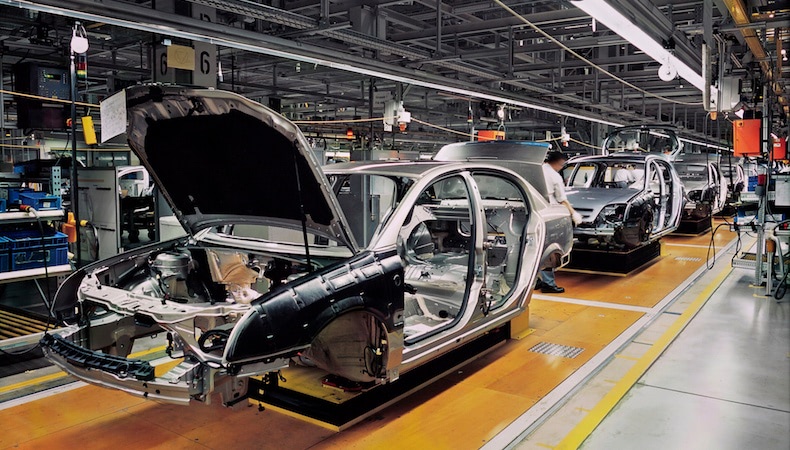 Federal Corporate Average Fuel Economy (CAFE) Standards coupled with heightened consumer sensitivities to the environmental impact of using fossil fuels are tightening fuel consumption requirements for the auto industry.
In response, automotive manufacturers are pursuing ways to reduce the weight of vehicles without compromising performance or safety. The growing market for electric vehicles is further driving the need as added weight decreases a vehicle's range between recharging.
Solutions include replacing steel with thermoplastic composites. Plastic as strong as steel — and significantly lighter — has been proven extremely beneficial. Here are a few common metal replacement plastic composite formulations used in the latest injection-molded automotive components:
Short Glass Fiber-Reinforced Plastic
Reinforcing plastic with short glass fibers improves strength, stiffness and heat deflection capabilities. For the automotive industry, these glass-reinforced polyamides and polyphthalamides accomplish the main goal of vehicle lightweighting; however, their high glass fiber content (up to 50% in some instances) and resulting high modulus also make them preferred materials for cylinder heads and other engine cooling components. Further, automotive manufacturers are using short glass fiber-reinforced plastic in the part design of several existing plastic components to improve longevity.
Long Glass Fiber-Reinforced Plastic
Long glass fiber-reinforced thermoplastics give auto manufacturers a high-performance, light weight option for designing vehicle components that require thinner walls. While long glass fiber-reinforced plastic is more expensive than other options, manufacturers realize cost savings in the materials' lower specific gravity as compared to unfilled resins. Some auto parts in development or production include brake pedals, seat backs, airbag housings and other components.
Carbon Fiber-Reinforced Plastic
Reduced emissions and fuel economy are driving the increased use of plastic replacements for aluminum and other metals as automakers look for ways to produce lightweight vehicles. Carbon fiber-reinforced plastics are of particular interest because they are about 40% lighter than typical materials and can provide significant lightweighting options for larger body parts such as side panels. These initiatives can help cut vehicle weight by as much as half compared to steel without jeopardizing safety or strength. In fact, it can be up to four times stronger.
The use of carbon fiber-reinforced plastic in automotive applications was estimated at about 7,000 metric tons in 2017, but that market could grow to almost 11,000 metric tons by 2025. Automakers making strides include:
General Motors — The CarbonPro pickup box was unveiled as an option for the 2019 GMC Sierra, developed by Teijin Automotive (Tokyo, Japan).
BMW — The 2020 BMW M2 CS features a carbon fiber-reinforced plastic roof fitted as standard.
Porsche — Recently unveiled, the Porsche "Bio-concept Car" is primarily built with organic materials, including the use of carbon fibers to reduce weight.
Clearly, the automotive industry is embracing the possibilities — and realities — of replacing steel with composites. Read more about designing plastic parts for complex automotive applications in our guide, below: