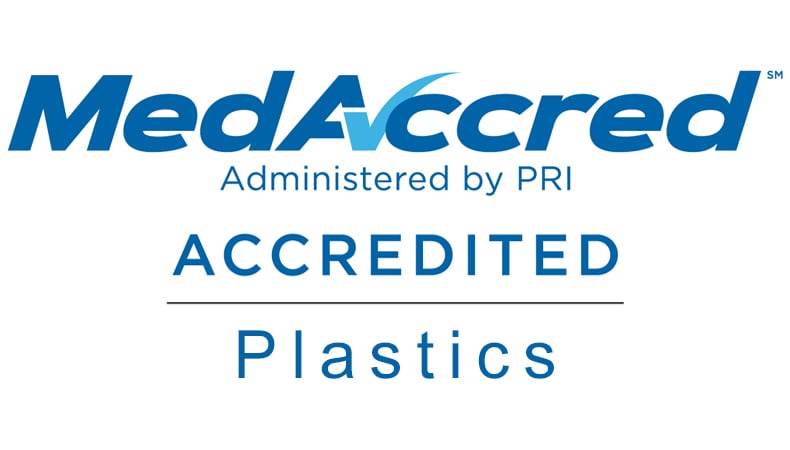 Kaysun's commitment to excellence is well documented through our certifications, including ISO 13485:2016 and IATF 16949:2016. However, MedAccred Plastics accreditation puts us in an elite group of injection molders that can capably and confidently serve the medical industry — assuring medical OEMs of a focus on patient safety and an unparalleled benchmark of quality standards.
To shed some light on MedAccred, Quality Manager Ray Dorow and I have some key insights about what the accreditation process entails, and what it means for our medical OEM partners.
What is MedAccred?
MedAccred is a medical device industry-managed supply chain oversight program managed by the Performance Review Institute.
MedAccred's top priority is reducing risk to patient safety through:
Verifying compliance with critical manufacturing processes
Improving the quality and consistency of medical devices
Earning accreditation is a rigorous process, and only a small fraction of injection molders are awarded the distinction.
Why did Kaysun choose to pursue MedAccred accreditation?
The medical industry is evolving rapidly, compelling medical OEMs to stay ahead of its needs without compromising the product quality and performance standards set by companies participating in MedAccred, including Stryker, Johnson & Johnson, and Medtronic.
Injection molders are similarly positioned. Being a value-add medical OEM partner means leaning into efficiencies that streamline the production process while meeting — and exceeding — the highest expectations for injection molded medical devices and components. MedAccred accreditation signals Kaysun's recognized ability to accomplish these goals within the medical market and to translate the production practices into part development for other industries.
What did the accreditation audit process entail?
For injection molders producing resin-based complex medical components and devices, MedAccred audits are administered by vetted subject matter experts who apply specific criteria to injection molding, insert molding, overmolding, and other processes. This enables a robust assessment of a molder's ability to consistently manufacture medical components and devices that conform to the applicable technical specifications, industry standards, and manufacturer requirements.
In terms of audit specificity, Kaysun was subject to a comprehensive review of procedures, work instructions, training records, and other documentation highlighting the ability of the company to consistently meet customer requirements. Of particular interest to the MedAccred auditors was the 5S lean workplace organization practices, which demonstrates Kaysun's continued focus on production efficiency and high standards within the organization and on behalf of medical OEMs.
How do medical OEMs benefit from working with a MedAccred accredited molder?
A custom injection molder that carries the MedAccred credentials is unique in its own right, since so few molders are able to obtain the designation. However, in the larger scope, MedAccred accreditation indicates that the injection molder has proven expertise helping medical manufacturers:
Make supplier partner selection and supply chain management more efficient
Adhere to stringent process and product requirements
Improve product quality and reduce the potential for recalls and warranty claims
Reduce overall patient risk and limit OEM litigation/liability exposure
Medical OEMs turn to Kaysun for design and materials expertise that streamline project timelines and costs while making patient safety a top priority. We're committed to adding value to our medical OEM partnerships at every project phase. For more on what to look for in a quality injection molding partner, read The Ultimate Guide to Medical Parts Manufacturer Selection. Click the button below to access your copy now.