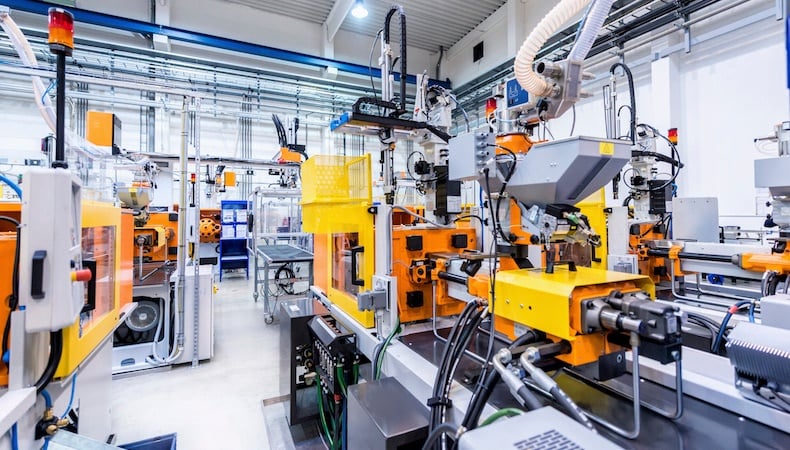 When you approach an injection molder to produce critical-use plastic parts or components, determining if the product is suitable for the injection molding process is one of the first steps.
Experienced injection molders will ask a series of questions to better understand your project needs from multiple perspectives – design, purpose and objectives – to first determine overall moldability, and then to confirm what type of injection mold is best suited for the job. Having the correct mold type is crucial to achieving quality, production, and cost objectives.

Standard injection molds are defined by the Society of Plastics Industry (SPI), and categorized into five classifications to guide quotes and orders into uniform mold types:
Class 101 Mold
Cycles: 1 million or more
Production level: High
Uses: Extremely high production and fast cycle times
Investment: Class 101 molds are the highest priced and made with only the highest quality materials
Class 102 Mold
Cycles: Not exceeding 1 million
Production level: Medium to high
Uses: Good for parts with abrasive materials and/or tight tolerances
Investment: Class 102 molds are fairly high priced and made with materials of exceptional quality
Class 103 Mold
Cycles: Not exceeding 500,000
Production level: Medium
Uses: A very popular mold for low to medium production parts
Investment: Class 103 molds fall within common price ranges
Class 104 Mold
Cycles: Not exceeding 100,000
Production level: Low
Uses: Good for limited-production parts with non-abrasive materials
Investment: Class 104 molds fall within low to moderate price ranges
Class 105 Mold
Cycles: Not exceeding 500
Production level: Prototype only
Uses: Good for abrasive materials and/or parts with tight tolerances
Investment: Class 105 molds are built inexpensively to produce a very limited number of product prototypes
Since each SPI classification has unique parameters, it's essential that you partner with a molder that is knowledgeable across the SPI classification spectrum, and can determine the best type of mold that meets your production life, cost, and quality objectives. Because of the complex, critical-use nature of our customers' products, Kaysun typically deals with applications that fall within Classes 101 and 102 for long-life production; however, our broad-based experience in complex injection molding makes us the preferred choice for consulting on all projects wherein high quality and high volume tools are required.
Find out more about the right mold for your project and how scientific molding can help prevent and debug tooling issues in our whitepaper, Scientific Molding: A Molder's Perspective. Click the button below to download your free copy.