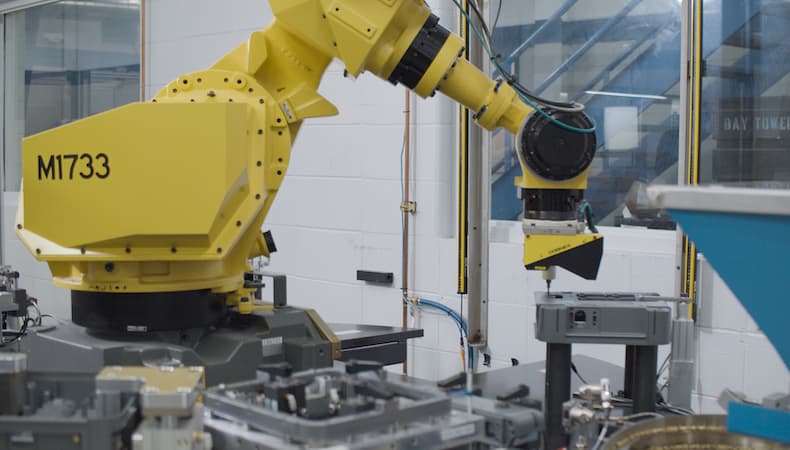 Consumer applications are diverse. Simply having products on the market isn't enough to build a customer base or keep pace with the competition.
Understanding the latest plastic injection molding industry trends — and partnering with a custom injection molder to apply them in creating highly differentiated products — translates to sustained success. It also gives you greater control over quality, cost, and time to market.
Injection molding industry trends suggest that a number of factors influence applications within the consumer market, such as:
1. ECO-CONSCIOUSNESS
American consumers want to support companies that prioritize recyclability and sustainability. In a recent survey, 42% identify as eco-friendly purchasers.1 Given that the U.S. consumer products market is valued at well over $600 billion,2 the voice of nearly half of the customer base is an expensive one to ignore.
Enter resin alternatives. Bioplastics made from renewable resources such as sugar, starches, and soy continue to gain traction in injection molding. Popular choices3 include:
Thermoplastic Starch-based Plastics (TPS)
Polyhydroxyalkanoates (PHA)
Polylactic Acid (PLA)
Polybutylene Succinate (PBS)
Polycaprolactone (PCL)
While these resin alternatives mimic many of the characteristics of traditional injection molding materials, their biodegradability also raises some concerns.
Durability can be an issue, as can cooling temperatures and moisture encountered during production. Injection molders with expertise in resin characteristics, behaviors, and selection can counter these measures with particulate fillers, reinforcing fillers, and other additives that change the structure of bioplastics without robbing them of their eco-friendliness.
2. u.s.-based manufacturing
The same group of American consumers that weighed in on the importance of sustainability also feel strongly about where products are made. "Made in the U.S.A." is a definite decision driver.
Of course, reshoring experienced an uptick during the pandemic. Working with U.S.-based suppliers — even local injection molding companies — for the first time, or the first time in a while, reminded OEMs of the benefits of reshoring:
Supply chain stability. Overseas plant closures, sporadic availability of raw materials, and little to no supply chain visibility toppled timelines and budgets. Having

access to domestic supply and services re-establishes control and provides opportunities to seamlessly manage vendors, costs, and time to market.



Higher quality, lower costs. At one time, putting product quality at risk seemed to be an acceptable tradeoff for offshore production — at least until expensive product defects, recalls, and potential safety issues arose. Working with a reputable custom injection molder that has a series of quality assurance processes in place negates concerns and provides fast, cost-effective course correction should the need arise.

The need for speed. Intercontinental transportation is slow snd often unreliable. A weeks-long delivery timeline can easily be extended by time zone miscalculations, cultural differences, weather, or any number of other events. Reshoring allows OEMs to leverage the power of local suppliers and the expertise of key injection molding partners to significantly reduce lead times and delivery time frames.
Value-added services. Reshoring opens the door to secondary operations that may not be available through offshore manufacturers. While value-added services likely add to upfront costs, the extra expense is recouped in the long-term through quality improvements, product differentiation potential, and faster time to market.
3. industrial robotics
The paradox in the push for U.S.-based manufacturing is the shortage of skilled labor. An estimated 2.1 million jobs will be vacant in the manufacturing sector by 2030,4 and 54% of manufacturers already report significant difficulties in finding qualified workers.5
The labor shortage is a thorny issue, but it's given rise to forward-thinking solutions that allow for doing more with fewer employees. On the whole, industrial robotics isn't a new innovation. However, technological advancements have robots providing timely assistance and benefits to consumer market OEMs and injection molders alike:
Artificial intelligence (AI) is real. Robots outfitted with AI software and sensors can consistently perform difficult production tasks. Computer autonomy ensures high-quality parts, produced efficiently even in a labor-strapped environment.6
Doing more with (even) less. Robotic technology allows for smaller carbon footprints, particularly when it comes to production-related energy consumption. Consumer market OEMs who work with injection molders that deploy these technologies could find realize cost savings.6
Relinking supply chains. The pandemic exposed weak links in global supply chains that further disrupted time to market, quality, and cost. Robotic automation provides viable solutions for integrating, securing, and managing supplier networks regardless of size, geography, or complexity.6
Learn more about automation in injection molding:
4. prolonged resin shortage
As with other industries, the consumer market continues to struggle with the impact of the unanticipated and prolonged resin shortage. The plastic injection molding market size isn't what it used to be.
Finding suitable replacements for nylon, acetal resins, polysulfone (PSU), polyphthalamide (PPA), polyphenylene sulfide (PPS), polyphenylene oxide (PPO), and syndiotactic polystyrene (SPS) isn't as simple as swapping out resins. It requires collaboration with your injection molder to qualify and test alternatives to ensure they are true solutions.
The duration of the resin shortage is unpredictable, compelling Kaysun to take problem-solving to the next level. For OEMs wishing to mitigate regional supply chain disruption, Kaysun offers collaborative global supply strategy development.
RELATED:
OEM-Molder Strategies for the Resin Shortage
Broadly speaking, suppliers from different countries of origin (typically at least one onshore and one offshore plastics supplier) are identified for materials fulfillment. Should a vendor not be able to fulfill an obligation, Kaysun already has a backup vetted and ready to step in to keep production timelines and project costs on track.
No doubt about it, new opportunities for consumer market applications present new challenges for manufacturers. Companies with loads of plastic injection molding industry experience, such as Kaysun, help you understand and incorporate the trends, processes, and resins that support your product goals, provide a competitive advantage, and help you innovate for the future.
For more on assessing the injection molding industry for consumer market new product development, download our tip sheet, What Type of Injection Molder Do You Need? Click the button below for your free copy!
SOURCES
1Packaging World, The Consumer Behavior of Plastics and Recycling in America, May 22, 2021
2Select USA, Consumer Goods Spotlight, Undated
3Stelray Plastic Products, Top 5 Biodegradable Resins for Your Plastic Injection Molding Project, March 4, 2019
4CNN Business, American factories are desperate for workers. It's a $1 trillion problem, May 4, 2021
5Industry Week, The Skilled Labor Shortage Threatens Manufacturing's Full Recovery, Says Study, July 14, 2021
6Plastics Today, 16 of the Top Robot Companies on Our Radar in 2021. They're Creating a Brave New World, July 16, 2021