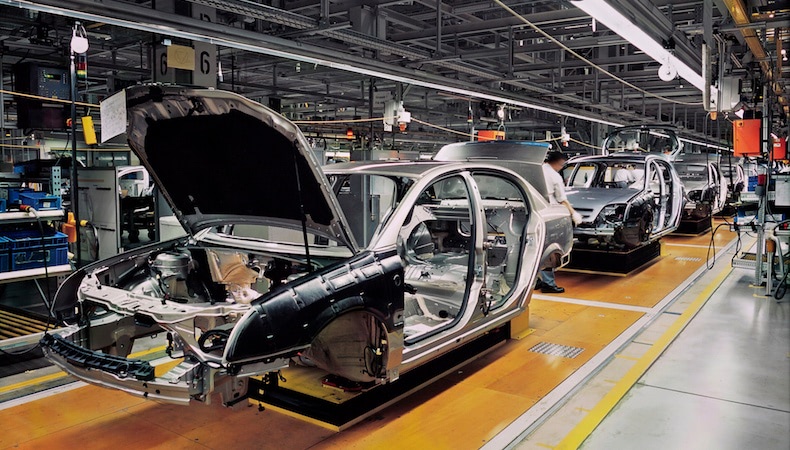 Federal Corporate Average Fuel Economy (CAFE) Standards coupled with heightened consumer sensitivities to the environmental impact of using fossil fuels are tightening fuel consumption requirements for the auto industry.
In response, automotive manufacturers are pursuing ways to reduce the weight of vehicles without compromising performance or safety by using plastic components to replace steel. Among leading solutions are thermoplastic composites used as molding plastics that are just as strong — and significantly lighter than — the steel and aluminum they are engineered to replace.
Here are a few common composite formulations used in the latest injection-molded automotive components:
Short Glass Fiber-Reinforced Plastic
Reinforcing plastic with short glass fibers improves strength, stiffness and heat deflection capabilities. For the automotive industry, these glass-reinforced polyamides and polyphthalamides accomplish the main goal of vehicle light weighting; however, their high glass fiber content (up to 50% in some instances) and resulting high modulus have also made them preferred materials for cylinder heads and other engine cooling components. Further, automotive manufacturers are using short glass fiber-reinforced plastic in the part design of several existing plastic components to improve longevity.
Long Glass Fiber-Reinforced Plastic
Long glass fiber-reinforced thermoplastics and polypropylene give auto manufacturers a high-performance, lightweight option for designing vehicle components that require thinner walls. While long glass fiber-reinforced plastic is more expensive than other options, manufacturers realize cost savings in the materials' lower specific gravity as compared to other resins such as polyamide or polycarbonate/acrylonitrile butadiene styrene.
Carbon Fiber-Reinforced Plastic
Carbon fiber-reinforced plastics are of particular interest to automotive manufacturers because they offer light weighting options for larger body parts like side panels – cutting vehicle weight by as much as half without jeopardizing strength or safety.

Major players in the automotive industry are undertaking initiatives to become leaders in plastics research and use, particularly as it relates to carbon fiber-reinforced materials:

Clearly, the automotive industry is embracing the possibilities – and realities – of plastics. Learn more by contacting an injection molding company like Kaysun or downloading Converting Metal Automotive Components to Plastic: A Manufacturer's Guide. Click the button below for your free copy.