Predictive analysis is an integral step in the product development process for plastic injection molded parts, particularly those that are designed for critical-use, tight-tolerance applications. Most important in this analysis is having confidence that your results are accurate.
The methodology and associated accuracy of predictive analysis tools can mean a difference of weeks or even months in terms of time to market. This, in turn, carries with it the financial impact of additional development work and lost opportunities caused by delays to market.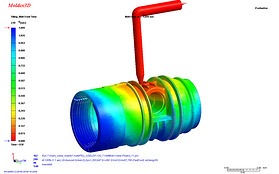 Both OEMs and suppliers have a variety of analysis tools available to utilize in their product development. Ultimately, it is the accuracy of the analysis that is critical. If the results of your predictive analysis are inaccurate, it will most likely increase your time to market by forcing expensive, inefficient trial and error methods to address shortcomings of the product.
Knowing which types of analyses to run and having the engineering expertise to perform them accurately is tantamount to achieving the results you are looking for.
For example, Kaysun combines a wide variety of tools in our predictive analysis with our FEA (finite element analysis). The FEA is run not simply with homogenous material properties for the resin. Rather, we factor in the results of our mold flow analysis with consideration given to knit lines and potential areas where material strength might prove to be lower than an advertised property from the resin manufacturer, including linear and nonlinear stress, heat transfer, fatigue, drop tolerance, and vibration test.
With greater analysis on the front end, there is less rework, faster development time, and ultimate cost efficiency on the back end.