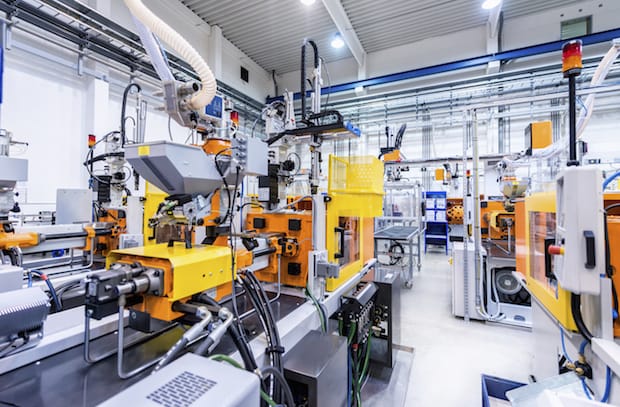 The overall safety and performance of a vehicle is dependent, in part, on the plastic components used throughout the vehicle. Many people think that when it comes to cars, plastic parts are features like the dashboard, seats and floor mats. But thermoplastic polymers are used in much more critical places throughout a vehicle, many of them under the hood in the car's powertrain and fuel systems.
In fact, up to 13 different polymers may be used in a single car model, with polypropylene, polyurethane and polyvinyl chloride (PVC) making up 66% of the polymers used in a car.
There are significant benefits of using plastic when manufacturing vehicle components, and working with a complex injection molder experienced in the automotive industry is key to ensuring that the components – and the systems they are used in – are up to National Highway Traffic Safety Administration (NHTSA) and other strict standards. A skilled injection molder will be able to select the resins that have the best polymer science to deliver on the performance needs of a particular component, and to identify the production process and part geometry that take utmost advantage of the resins in providing these critical features and benefits:
Safety / Crash Performance
Safety is perhaps the #1 factor in the selection of engine and drivetrain components, and an experienced injection molder will select polymers that have been proven highly effective in vehicle intrusion, crushing, and a wide range of other automotive testing. Innovation in plastics is robust and ongoing, with advancements in safety happening at a very fast rate.
Fuel Efficiency / Lightweighting
Unlike most metals, plastic provides high rigidity with a low weight, and the ongoing development of new polymer types is allowing manufacturers to replace more of the heavy steel in vehicles every day. The development of new high-performance components that lower the center of gravity of a vehicle will further reduce a vehicle's weight and, as a result, improve its fuel efficiency. Plastic components also have the potential to improve the performance of onboard crash avoidance and performance systems.
Weather and Wear Resistance
Many plastics are able to withstand extreme weather conditions, such as intense sunlight UV rays, rapid temperature swings, and extreme dry and wet conditions – some of which make metal an impractical choice. Plastics can also withstand the significant wear presented by tough terrains.
Property Retention Over Service Temperature Range
The right plastics can maintain their integrity over a temperature range of -40° to +200°F without compromise in performance, making them ideal for under-the-hood applications.
Compatibility With Mechanical Fasteners
Plastics can work cohesively with metal connectors throughout the auto assembly; they also allow for tight tolerances and can be precisely molded to fit into tight spaces within the larger system. Plastic also contributes to the load-bearing strength of a component while providing the necessary elasticity.
While not a feature that directly benefits a vehicle, thermoplastic components also can be recycled. At the end of its life, a plastic part can be easily dismantled and converted into new uses.
With the correct resin chosen by an experienced complex injection molder, plastic delivers the safety and performance levels required by state and federal regulations and of major auto manufacturers, with benefits like lower cost, lighter weight/higher efficiency, and improved driver, passenger and pedestrian safety. Learn more about the benefits of using plastic parts in automotive applications by downloading our Guide to Designing for Critical-Use Automotive Applications.