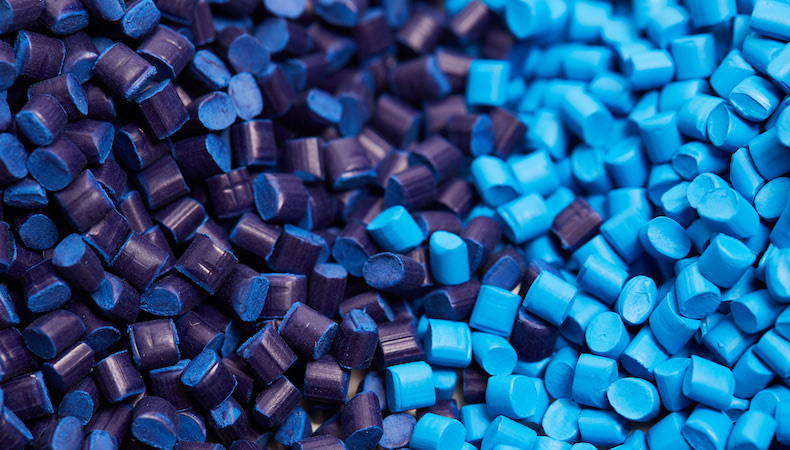 North American resin production topped out at nearly 28.7 billion pounds April of 2019, a 2.9% increase compared to the same time period in 2018.1 The uptick suggests that engineered resins continue to find their place as preferred materials within industries requiring precision injection molded parts and devices such as in the medical, automotive, and defense & public safety markets.
Polyether ether ketone (PEEK) resin is regarded as ideal for many complex applications due to its inherent characteristics and injection molding versatility. Is this thermoplastic right for your project?
The Benefits of PEEK Resin
PEEK is an attractive plastic injection molding material for complex applications because of its excellent performance in environments where high temperatures, harsh chemicals, or other adverse conditions are present. Further, PEEK is very strong, so applications that bear substantial weight or are being considered for metal-to-plastic conversion may be ideal candidates for PEEK injection molding.
Why is PEEK a contender for so many types of injection molding projects? The answer lies in its properties, specifically:
Low thermal, organic, or aqueous degradation

Excellent resistance to radiation, sterilization, acid, and solvent/chemical breakdown

Exceptional mechanical robustness with low coefficient friction and thermal stability

High hardness and stiffness that curtails fatigue and stress cracking

Very low moisture absorption

Low smoke and toxic gas emission in response to flame exposure (UL 94 V-0 rated)

Eco-friendly recyclability and re-use, especially as compared to metal

For as many advantages as PEEK offers, it's important to note that it's not as fluid as other resins. As such, it will behave differently during the injection molding process. This characteristic needs to be accounted for in the design phase, which underscores the importance of involving an experienced custom injection molder early in project design and engineering to ensure proper outcomes.
Which OEMs use PEEK? Why?
PEEK provides value to a host of industries but, as we've alluded to, markets that demand precision, safety, and performance from complex applications are particularly well suited for PEEK injection molding.
Not surprisingly, medical, automotive, and defense & public safety OEMs regularly look to PEEK during resin selection.
Medical OEMs may use PEEK for implants since the human body readily accepts the

antimicrobial material

, and PEEK can also withstand X-rays, CT and MRI scanning. Also, certain procedural handheld instruments and external equipment components (tubing, etc.) are molded from PEEK since it can be repeatedly sterilized by steam, gamma radiation, Ethylene oxide (EtO) and electron beam.

Automotive OEMs may use PEEK for

metal-to-plastic conversion

in order to solve challenges surrounding lightweighting compliance since the resin is as strong as — if not stronger than — metal. Plus, extreme under-the-hood conditions that encompass everything from high heat and chemicals to continuous friction and vibration make PEEK a good choice for high-performance injection molded bearings, seals, valves, and insulation.

Defense and Public Safety OEMs rely on the strength and durability of PEEK for protective gear worn by personnel in the field, as well as increasing the durability of certain handheld equipment and vehicle features. Military specifications are particularly stringent around the

types of materials allowed

for use, so seeking guidance and a partnership with an injection molder that is

International Traffic in Arms Regulations (ITAR) compliant

is imperative.

Advanced plastics like PEEK and the experience of your custom injection molding partner provide new opportunities for complex applications, as detailed in our whitepaper, Processing High-Temperature and Engineered-Grade Resins. Click the button below to access your copy now.