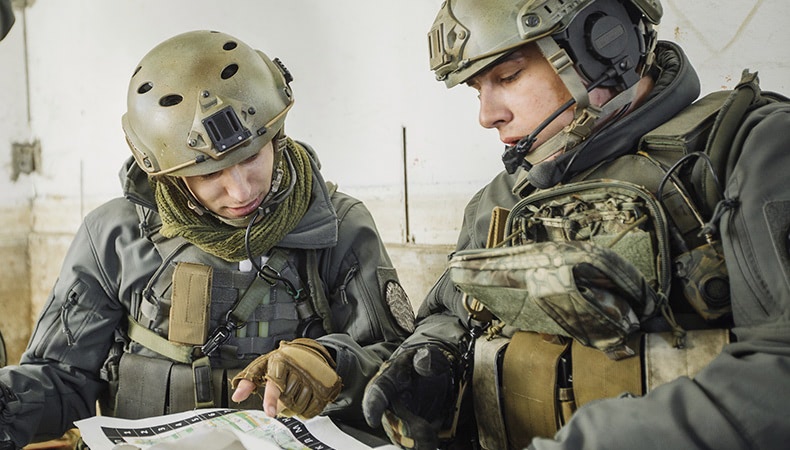 The U.S. Department of Defense (DoD) has long faced the dilemma of balancing the safety and welfare of military personnel with the need for reducing the weight of armed forces gear and equipment.
Historically, light weighting was focused on military air, sea and land vehicles in order to reduce fuel consumption and costs while also improving transportability. While these priorities are still viable, today's military faces emerging threats and increasingly intemperate environments that introduce new safety concerns and challenges to light weighting for military applications, particularly as it relates to the equipment troops carry and use in the field.
To encompass all military applications, the DoD-commissioned Committee on Benchmarking the Technology and Applications of Light Weighting broadly defined light weighting as the process of reducing the weight of a product, component or system for the purpose of embracing certain attributes, notably (1) performance, (2) operational supportability, and (3) survivability. Using these parameters, substituting metal parts with injection-molded plastic components produced and supplied by an ITAR-certified molder is a practical and safe solution.
Why plastics?
Plastic is not an arbitrary selection for replacing metal in military applications. Plastic components, when designed and manufactured in partnership with an ITAR-certified molder, provide several important advantages:
Lower weight
An obvious differentiator, plastics are about 40% lighter than metal. Military vehicles constructed with plastics realize better fuel economy, performance, operational supportability and survivability, while troops outfitted in gear with plastic components are less equipment-laden and more agile – benefitting personnel mobility and safety across the board.
Freedom of design and assembly
Plastic components offer increased design freedom and fewer assembly constraints, enabling consolidation of multiple parts into a single, injection-molded plastic component in varying degrees of geometric complexity. Plastic components can also be molded in virtually any color and pattern, increasing camouflage and stealth effectiveness.
Superior durability
Plastics are suited for today's battlefields, offering exceptional resistance to heat, chemicals, moisture and impact.
Lower Total Cost of Ownership (TCO)
Combined, these factors dramatically lower total costs and the toll taken on troops who otherwise would have to carry gear loads in excess of 100 pounds. From a production standpoint, plastic injection mold tooling is extremely robust and has a much longer life than die-cast molds used to produce metal parts.
Proven performance
Injection-molded plastic components designed and produced by Kaysun played an integral part in the success of these military applications:
Global Positioning Systems (GPS): When these critical handheld devices were determined to be too big and heavy for troops in the field, plastic injection molding was used for the redesign of complex molds, tooling and components. The re-engineered GPS not only met light weighting, performance and quality objectives, it was more easily produced and readily available to the military.
Munitions Devices: Some next-generation, remote controlled antipersonnel detection equipment contained a number of complex metal parts that presented manufacturing and assembly challenges. Custom injection-molded plastic components were substituted for battery carriages and various other delicate assemblies, enhancing strength and manufacturability without compromising the equipment precision needed to protect troops.
Light weighting for military applications by replacing metal with plastic requires an injection molding partner with the knowledge, capabilities and experience to understand your unique defense application requirements.
For other considerations that impact military applications and how partnering with an experienced injection molder improves outcomes, read Plastic Materials for Safety and Reliability – A Guide for Military/Defense Applications. Download your free copy now by clicking the button below.