Technology is driving advances in weapons, transportation systems, navigational devices, and other products that support deployment of troops, equipment, and supplies. Police, firefighters, first responders, and our military depend on protective equipment that is designed and manufactured with the most advanced materials and processes.
Durable and Lightweight Products are Imperative for Success in the Field
With so much at stake, the plastic products Kaysun makes for the military must be extremely tough, durable, and do exactly what they are supposed to do—there is no room for error.
Our parts and products must be able to handle tough field conditions and are often used by military and security personnel—this means plastic features such as weight, strength, impact resistance, and chemical and temperature resistance are extremely important.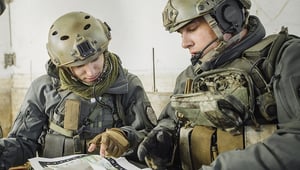 Making equipment and protective gear that are lightweight and still strong is always a top consideration—especially if the equipment will be worn or carried by men and women in the field. In addition, lightweight equipment is far easier to ship and deploy, boosting the efficiency of large-scale operations, as well as saving time and money.
Kaysun can achieve these goals using metal-to-plastic conversion to effectively replace metal parts with lightweight plastic parts that are just as effective, and often more durable. Sometimes our engineers can also replace metal products that consist of multiple metal parts with a single lightweight plastic part, thereby eliminating the need for connections (always weak points in any design).
Thorough Modeling and Testing for Field Performance
Our in-house materials laboratory conducts comprehensive modeling and testing to identify military grade plastic, offering the best physical properties for delivering top product performance, and long life, in the field.
Kaysun is experienced with defense contracts and protocols and is an International Traffic in Arms Regulations-registered (ITAR) custom manufacturer.
Read: Handheld Solutions Case Study