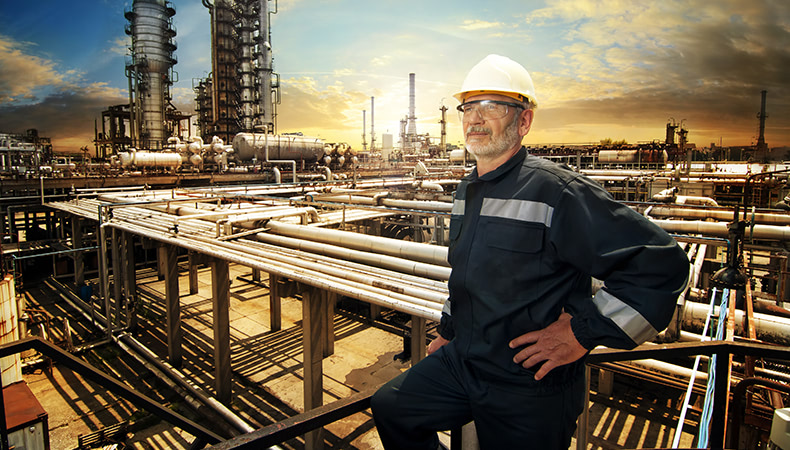 Oil and gas are natural resources harvested from beneath the earth's surface. Sophisticated production, gathering, processing, transmission, and distribution systems can expose industry workers to the risk of natural gas poisoning — even in the oil business, as some underground crude contains natural gas.
The poisoning causes varying degrees of illness, from fatigue and headaches to the potential for suffocation if left untreated. Natural gas & oil industry OEMs understandably take the threat seriously and routinely issue personal protective equipment (PPE) to keep workers safe.
One essential PPE device for gas & oil workers is a handheld or wearable natural gas detector. The device is sensitive to airborne chemicals and combustible gasses — even if invisible and/or odorless — and alerts the user to potential danger.
It's a seemingly simple solution that actually requires precise, delicate instrumentation. In order to protect workers, the instrumentation needs to be protected — no easy feat on industrial field sites.
Reliable performance is non-negotiable for PPE. Leveraging the benefits of custom injection molding can help consistently realize this goal.
Functionality Through DfM and Overmolding
A custom injection molder with Design for Manufacturability (DfM) expertise and extensive overmolding experience is ideal for gas detection devices. DfM allows for concurrent review of the part design and tooling, ensuring the most functional PPE unit is going to be produced.
From a protection standpoint, overmolding is key. Primarily, overmolding eliminates the need for multiple seals, o-rings, and other design elements that could make the gas detector assemblies vulnerable to malfunction because of dust, chemical, or water egress. The streamlined design also increases usability and user comfort because sensors are sealed in place, buttons are easily accessible, and grip is improved even in wet or dirty environments.
Overmolding provides a layer of protection in the case of drops, excessive vibration, or other rough handling. The soft-touch material formed over the substrate in the overmolding process acts as an impact resistor, especially when an expert injection molder guides design decisions about the housings, overmolding material thickness, and tactility.
Getting Clear On Viewing Windows
As important as overmolding is to the protection and performance of gas detection units, it is not the only area injection molders need to focus on in order to produce desired results.
Visibility of dials, numbers, lights, and other gas measurement indicators is vital for users. Without clear, fog- and scratch-resistant viewing windows, natural gas & oil industry workers could miss warnings and be placed in danger.
An injection molder with a strong tooling supplier network and in-house tooling capabilities can ensure the right tooling steel is used for high polish on molded clear polycarbonate windows — essentially creating a mirror finish that remains transparent in nearly all conditions.
Demonstrating the Benefits of Injection Molding
Kaysun has practical experience in industrial PPE that demonstrates just how impactful an injection molder can be in helping protect natural gas & oil industry workers.
Problem
The maker of a handheld gas detection device with advanced sensor technologies was having issues with another vendor in getting unit housings made reliably and timely. Design quality was spotty and production inefficiencies caused a proliferation of part defects.
Solution
The Kaysun team collaborated with the customer's engineering team for component design and development. Mold fill analysis pinpointed substrate and overmolding issues, and the data was used to select compatible rigid materials for improved moldability and reduced warpage, as well as an appropriate thermoplastic elastomer (TPE) overmold.
The project took on added complexity when a mid-production decision was made to add a third overmold material and new color. The modifications required Kaysun to build a new tool for the third overmold sequence and adapt existing tooling to accommodate the third TPE overmold without compromising material flow, adhesion, or shut-off functionality.
How did Kaysun's deep knowledge of DfM, overmolding, and tooling help this industrial PPE manufacturer pivot to a top-quality injection molding solution? Did fully functioning, high-performance gas detectors get into the hands of natural gas & oil workers and workers in other industries? Get the answers to these questions and more in our Case Study: Design and Production of Complex Applications. Click the button below to download your copy now.