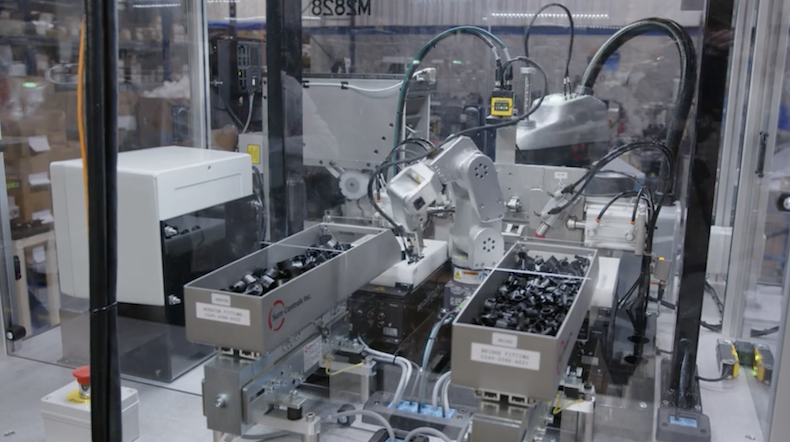 Consumer goods manufacturing is increasingly dependent on automation. Robotics currently complete 52% of production line tasks within the consumer goods and pharma industries.1 The percentage is second only to the combined 70% used across the automotive (38%), electronics (15%), plastics and chemicals (10%) and metals (7%) industries.2
In-house automation plays a major role in lean manufacturing focused on quality in processes and outcomes. Working with a custom injection molder that embraces the principles of operational improvement through automation provides significant advantages in three key areas:
1. Cost savings
The goal of injection molding automation is quality through consistency and repeatability; achieve those three goals and cost savings will follow. An injection molder with an automation mindset proactively identifies ways in which tasks can be done accurately and quickly with the aid of robotics. Molders that use and keep injection molding automation equipment running at peak performance increase efficiencies and decrease customer costs.
2. Reduced cycle times
Unlike humans, automation's precision and productivity is not impacted by external factors. Production is consistent and often faster than human-led activities, resulting in reduced cycle times. The result? More injection molded parts manufactured per day — and higher profitability.
3. Reallocation of labor to maximize quality outcomes
The ongoing labor crisis has manufacturing sector employers competing for fewer available skilled workers, and scrambling to find solutions. Automation in injection molding processes is more than a stopgap. Incorporating machines to efficiently handle repetitive tasks cuts labor costs, freeing up trained employees to focus on more advanced duties and continuous improvement.
How automated is your injection molder?
Finding an experienced custom injection molder that aligns its injection molding machines, operations, and production with automation helps increase product quality and speed to market. However, not all molders have robotics in place. How can you find the right molder for your job?
5 Steps to Get New Injection Molded Products to Market Faster details what to look for in a molder to ensure the best results, fastest turnaround times, and consistent competitive advantage. Click the button below to download your copy of this valuable eBook now.
SOURCES
1ThomasNet, 52% of of North American Robots Support Consumer Goods, Pharma Manufacturing, February 19, 2021
2Science Daily, How many jobs do robots really replace? New research puts a number on the job costs of automation, May 4, 2020