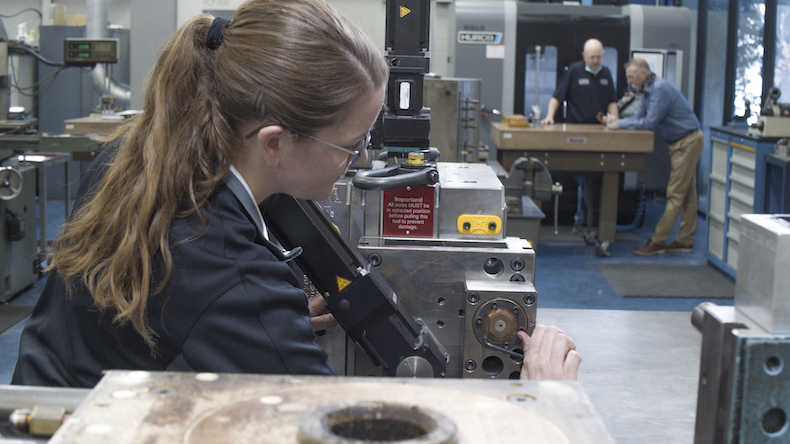 "Winning the day." It's an inspirational and aspirational challenge to the entire Kaysun team that encourages finding and making daily improvements to help everyone meet their daily goals.
But changes for the better aren't effective if they exist in a vacuum. Just as continuous improvement requires every team member to act as empowered individuals, its success relies upon cross-functional teams to effectively solve problems.
Continuous Improvement (CI) Lean Manufacturing and Team Collaboration
In a continuous improvement (CI) lean manufacturing environment, cross-functional teams bring together skilled injection molding employees trained to think critically and tactically in key focus areas, including:
Lean Leader workshops
Single-Minute Exchange of Dies (SMED)/Quick changeover
Managing Daily Improvements (MDI)
Training Within Industry (TWI)
Autonomous and preventative maintenance
Standard work
Scrap reduction
A3 problem solving
5S housekeeping
80/20 Pareto charts
The tools and processes team members take away from CI training lead to better solutions, but they are only one part of the equation. Aligning continuous improvement projects in manufacturing with certain aspects of company culture proves beneficial.
In this short video, Kaysun manufacturing engineer and continuous improvement specialist Keith Philippi explains the value of using multi-shift cross-functional teams. Connecting workers, improvement opportunities, learning, and quality standards supports change and positive outcomes:
Continuous Improvement and Cross-Functional Teams [VIDEO TRANSCRIPT]
Kaysun uses multi-shift cross-functional teams to solve problems because we believe we can get a better solution.
We identify our problems by the gap between our current condition and our standard condition. We close this gap by solving the root cause of the problem. The end result is that we have skilled, knowledgeable employees that become very good problem solvers.
Each day is an opportunity to make an improvement and meet your goals. We call that winning the day and we win it one win at a time.
I think what sets Kaysun apart from other manufacturers is how we utilize our people. Engaging people in continuous improvement asking for their input is a sign of respect. Kaysun does an excellent job at engaging employees and making the workplace better.
Continuous improvement in injection molding leverages small adjustments for maximum project and outcome efficiencies. Unlike Kaysun, not all molders are equally skilled at applying CI lean manufacturing processes or having their teams focused on "winning the day."
Determining if your current or prospective injection molder is the right one for your operation and goals requires objective evaluation. Get the answers you need by using our guide, 5 Questions OEMs Must Ask Before Partnering With a Custom Injection Molder. Click the button below to download your copy now.