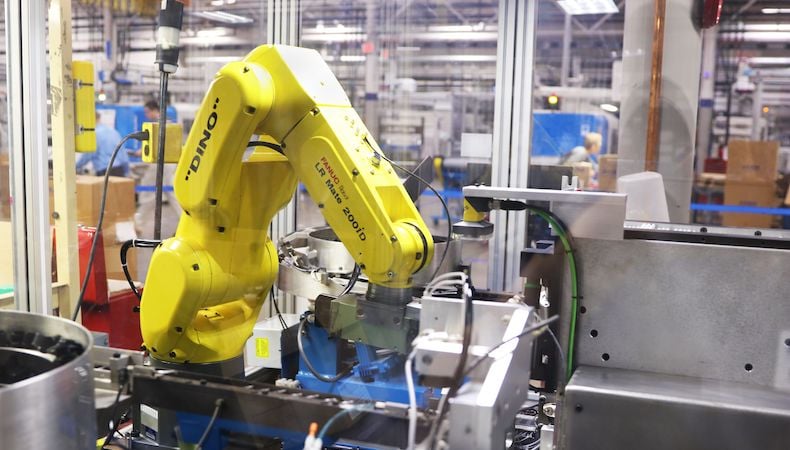 In the United States, about 70% of robotics technologies are used within four industries: automotive (38%), electronics (15%), plastics and chemicals (10%), and metals (7%).1 Industrial manufacturing relies on automation, and that reliance speaks volumes about how robots contribute to quality outcomes.
Custom injection molders leverage the speed and precision of automation to produce parts with extremely complex geometries. Production line robots may be called upon to execute tasks such as removing parts from tools, managing substrate placement in tools, or metal insert placement. The goal of injection molding automation is quality through consistency and repeatability — and robotics is the proven way to achieve it.
Efficiencies only increase when custom injection molders bring automation in-house to offer specialized value-added services. At Kaysun, our dedicated in-house automation team brings passion and purpose to developing targeted capabilities that help our customers manage costs, increase profitability, and remain competitive. Manufacturing Engineer Kevin Lindgren explains:
Injection Molding Automation Video Transcript
The in-house automation capabilities at Kaysun are really limitless. As a result, we can focus on quality improvements and direct labor improvements. We are able to think creatively to make sure we're coming up with the best solutions possible for our customers.
The automation team at Kaysun is a very diverse group. We've got varying levels of experience and education, allowing us to fill different roles to all come together and make one project work. The in-house automation efficiencies at Kaysun allow us to design robust processes right away — even product development for the components themselves — and it helps with continuous improvement initiatives and preventive maintenance throughout production.
The main benefits of using automation are consistency and repeatability. A robot handles, inspects, and packs each part the same way, every time. That means consistent quality from the start of the project through shipping.
Turnkey Solutions
Injection molding automation throughout production is a proven advantage for manufacturers, but our automation team takes a holistic approach to the use of robotics and smart technologies. Their vision has resulted in key process improvements and the successful integration of several turnkey, quality-driven solutions for secondary operations, including:
Assembly: Repeatable assembly steps and automated inspection processes streamline labor and ensure top quality, defect-free injection molded parts
Welding: Data-driven loading/unloading processes provide key information for timely automated adjustments pertaining to correcting unusual trends (i.e., parts falling out of spec) and scheduling injection molding equipment preventive maintenance
Leak testing: Autonomous part handling lends consistency to finding, segregating, and rejecting failed parts before shipment
Molding: The use of RJG pressure transducers improves part handling, cycle times, machine uptime, and overall part quality
The effectiveness and innovation of robotics have given OEMs new opportunities, and new considerations for partnerships. Full-service custom injection molders like Kaysun often top the list because of robust capabilities, but there is more to consider when making an informed, confident choice.
Evaluate potential custom injection molder partners using our guide, 5 Questions OEMs Must Ask Before Partnering With a Custom Injection Molder. Click the button below to download your copy now.
SOURCES
1Science Daily, How many jobs do robots really replace? New research puts a number on the job costs of automation, May 4, 2020