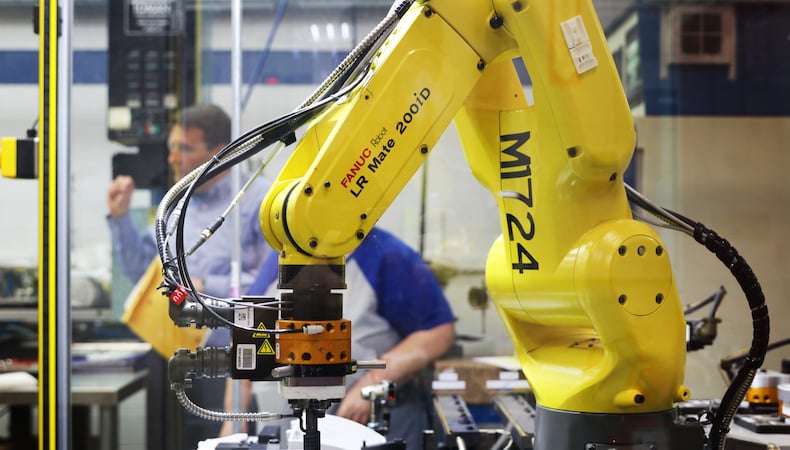 Plastic injection molding automation is a staple for custom injection molders, and with good reason. The speed and precision automation lends to producing extremely complex injection-molded parts is unparalleled. Automation also helps realize cost efficiencies by eliminating humans — and the related potential for error — from the process.
With so many benefits, it's easy to understand why plastic injection molding automation is appealing to OEM and molder alike. What makes it even more valuable is when a custom injection molder has an in-house automation team available to develop creative turnkey solutions to even the toughest customer challenges.
The Advantages of an In-House Automation Team
An in-house automation team serves as both a think tank and facilitator for incorporating advanced technologies into the injection molding process. Being in-house is advantageous. Not only is the molder's team generally better versed in the unique needs and issues of OEM partners, they are engaged as problem solvers early on in a project through its successful completion.
It's been our experience with the Kaysun in-house automation team that such close and continuous alignment with customers drives results in key areas, including:
Labor reductions
Process improvements
Scrap reduction
Waste elimination
Further, an in-house automation team is instrumental in maintaining plastic injection molding automation equipment. Robotics can be delicate. A team that is familiar with the intricacies of automation as well as the equipment itself (which they likely designed and built) is a win-win for preventative maintenance.
Practical, Progressive Injection Molding Solutions
Applying the principles and practice of automation streamlines efficiencies. On the production line, robots may be employed for various tasks like removing parts from a tool, or placing inserts or substrates into tools. Automation can also be far more specialized to aid customers, as evidenced by the turnkey solutions the Kaysun in-house automation team incorporated into our value-added services.
Each automation cell provides consistent outcomes in:
Assembly: Repeatable

assembly steps

streamline labor, and automated inspection processes ensure defect-free production of top quality injection molded parts.
Welding: Data-logging processes aid in the consistent loading/unloading of parts, with a larger purpose. The data is analyzed to identify unusual trends such as parts trending out of spec, and also to set and adhere to preventive maintenance schedules for the injection molding equipment.
Leak testing: General cleanliness and consistent part handling extends autonomous maintenance activities. Within the process, failed parts are automatically segregated and rejected.
Molding: RJG pressure transducers automatically segregate and reject startup parts or reject parts which improves handling, cycle times, machine uptime, and part quality. Parts are subject to controlled cooling times and methods prior to packaging.
Eliminating the need for human interaction related to these processes substantially mitigates risk of error and speeds up production. Consistent cycles substantially improve part quality and, by extension, our customers' competitive advantage in their respective industries. This short video demonstrates how seamless automation is within Kaysun production:
As Industry 4.0 gives way to Industry 5.0 and its dependence on robotics, plastic injection molding automation is more critical than ever. Working with a custom injection molder like Kaysun that remains ahead of the curve with an in-house automation team and well-established practices helps you leverage the best of today's technologies for tomorrow's innovations. Learn more in our eBook, 5 Steps to Get New Injection Molded Products to Market Faster. Click the button below to download your copy now!