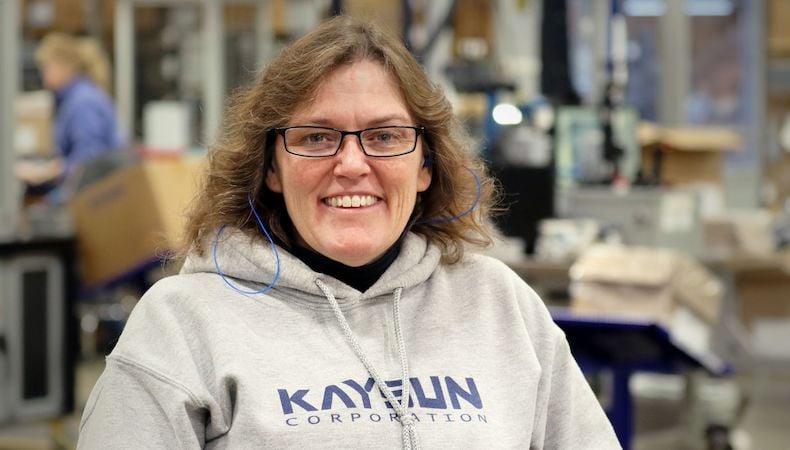 There's no such thing as a typical day at Kaysun. Then again, Kaysun isn't your typical custom injection molder.
Team members readily acknowledge that Kaysun is a different kind of employer. They point to the clean facility, a culture committed to employee empowerment and wellness, and a keen sense of corporate social responsibility as reasons they chose Kaysun. After being hired into positions, it quickly became evident these benefits were only part of the Kaysun advantage.
Three team members shared their perspectives on a day in the life of a Kaysun employee. While their responsibilities span from the production floor to the tool room, common themes emerged about the most appealing aspects of their jobs:
Training
To be a decades-long leader in plastic injection molding requires a commitment to quality and our customers. Setting up team members for success starts with focused training, and ongoing mentorship.
Jackie, a first shift production technician and recently named trainer, identifies with employees pursuing Kaysun career opportunities. As someone without previous experience in a manufacturing environment except a brief stint out of high school, she was nervous about fitting in at Kaysun. "I was in retail for many years. I needed a change, but was hesitant to apply at Kaysun because I didn't feel I had what it takes."
The focused two-week training program changed her mind. "Walking in without a clue about plastic injection molding, I was relieved to have a patient, experienced person come alongside me to coach me on machines and processes. Even after two weeks of dedicated training and establishing a comfort level on the job, I still had ready access to a mentor. That's peace of mind. Who knew that 15 months later I'd be sharing what I know to help others grow!"
Teamwork
Among the most impressive shared traits at Kaysun is everyone's willingness to help each other. It's a special quality not lost on employees, regardless of tenure. Amy, a recently hired first shift production technician, and Howie, a precision machinist with decades of service to Kaysun, echo each other's sentiments when it comes to teamwork.
Amy stated she never felt so supported, and it's understandable. Howie explained, "No one has a 'figure it out yourself' attitude. Anyone — from management on down — will gladly set aside what they're doing to help you. It doesn't matter if it's answering a simple question or tackling a major issue. That kind of willingness shows the heart of Kaysun."
Variety
At Kaysun, workers rarely experience two days that are the same. Production technicians like Jackie and Amy find the variety invigorating. "I like the challenge of working on a number of different presses, and switching between duties from day-to-day, and sometimes even during shifts," Jackie commented. "The customers' needs drive my day. I never punch in dreading repetitive work."
Does a 27-year Kaysun veteran feel as fulfilled with his job as newer employees? Absolutely. Howie enjoys what he calls "constant problem solving" presented by the repair and maintenance of injection molding tooling and dies.
The cross-team interaction is among Howie's favorite activities. "Kaysun has a strong in-house network that promotes communication. Designers, engineers, quality control professionals — we routinely see them in the tool room. We may all approach a problem differently, but we all contribute to the solution. That's what keeps it exciting."
Respect
"This may seem like a little thing, but it's a big thing to me," Amy said. "[CEO] Ben [Harrison] knows me and all of the workers by name. He truly takes an interest in us as individuals apart from the jobs we do at Kaysun. It's refreshing to be treated as a person, not a number."
Howie agrees. "In nearly 30 years on the job, I've always felt respected and that I'm treated fairly. Kaysun management really looks out for their employees. The plastic injection molding work we do is important, but it's clear the people are an equal priority."
Engagement
Kaysun believes that empowered employees and strong communities are essential to overall well-being, and they take active measures to support both.
Kaysun encourages employees to tend to their bodies, minds, and spirits with on-site amenities including a gym, outside walking track with workout equipment, and dedicated areas for quiet reflection. Fitness classes led by area professionals are always popular. "I never would have thought a plastic injection molding company would make yoga and meditative sound baths part of the employees' day. But Kaysun does, and I love it," said Amy. "The activities are great, but it also shows just how much Kaysun cares about employee wellness."
That care extends to the community. Kaysun sponsors blood drives, hosts a community garden, participates in area park clean-up days, heads up sustainability initiatives with an in-house Green Team — all enthusiastically supported by Kaysun employees.
The value of a custom injection molder is demonstrated in the quality of work provided, the character of the people who stand behind those products and services, and a culture that supports both. How do your current or potential molders compare? Gain critical insights with 5 Questions OEMs Must Ask Before Partnering With a Customer Injection Molder. Click the button below to download your copy now!