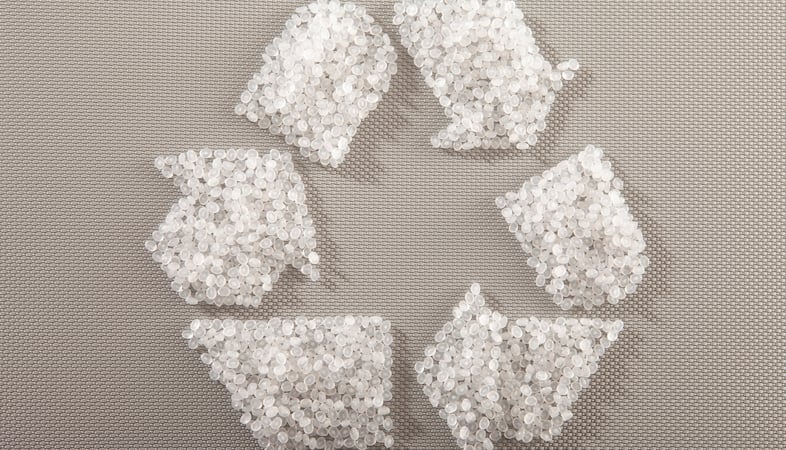 The 1,250 landfills in the United States are projected to reach maximum capacity within the next few decades. Pair that with the fact that, globally, 91% of plastic waste isn't recycled, and the devastation of the eco-crisis becomes shockingly real.
Protecting the planet is everyone's responsibility, including — and perhaps especially — corporations routinely using eco-sensitive materials. As a custom injection molder, Kaysun handles thousands of tons of plastics annually which are processed into injection-molded parts.
Production also produces scrap plastic. Responsibly managing the waste provides recycling opportunities, including the use of plastic regrind. It also provides inspiration for Kaysun to honor our commitment to our core value of corporate social responsibility, the environment, and our community.
Millions of Reasons to Recycle Scrap Plastic
As our dedicated eco-task force, the Kaysun Green Team is empowered to create a culture of "green" thinking and actionable initiatives. One of the three main focus areas for the Green Team is reducing waste sent to the landfill by 50% — an ambitious goal in and of itself, but it's only part of the story.
The support shown across departments and shifts turned this goal into a significant achievement. Kaysun has reached a major milestone — diverting 2,000,000 pounds of waste from the landfill!
Harnessing the Power of Plastic Regrind
Keeping 2,000,000 pounds of waste out of the landfill takes concentrated effort. Converting the scrap plastic to clean energy takes the help of key partnerships, like the one Kaysun has with renewable fuel and power producer Convergen Energy.


Convergen Energy worked with Kaysun to create a solution for their plastic injection molding byproduct, using their in-house equipment to reduce particle size. I highly commend the folks at Kaysun because they go the extra mile; in fact, our partnership would not have been possible without a real effort from their team. We're proud to work with partners like Kaysun that use a sustainable method for dealing with the byproduct generated during their manufacturing process. Congratulations on diverting 2,000,000 pounds of waste from the landfill!
—Tedd Van Camp, Convergen Energy
Kaysun plastic regrind is part of the nearly 40% of recycled material in the Convergen Energy fuel pellets that utility companies use to generate electricity instead of burning coal. Locally, the switch to clean energy sources containing scrap plastic has met with success. Manitowoc Public Utilities has seen a 79% reduction in greenhouse gasses.


Kaysun partners with Convergen Energy to produce engineered fuel from their clean industrial byproducts. Through Convergen's partnership with Manitowoc Public Utilities (MPU), this biomass fuel is then utilized to produce Wisconsin-recognized renewable energy and steam at MPU's local power plant. These partnerships keep materials out of the landfill, provide an alternative fuel source to the use of fossil fuels, such as petroleum coke and coal, and help power Manitowoc with dispatchable renewable baseload energy.
—Jeff Matzke, Manitowoc Public Utilities
A Circular Economy Takes Shape
The ripple effects of Kaysun's milestone achievement reach well beyond Manitowoc and the surrounding area. The plastic regrind is part of the larger circular economy — a business model centered around continuous, practical recycling of existing materials for production and consumption.
The benefits of participating in the circular economy of clean energy means:
Waste materials are upcycled into higher-value renewable power sources
Landfills are spared from housing materials that threaten the environment
Carbon dioxide emissions are reduced
Sustainability becomes central to production processes
Kaysun is understandably proud of reaching its goal of diverting 2,000,000 pounds of waste from the landfill and supporting a beneficial circular economy of clean energy. We couldn't do it without the support of our customers, and encourage partnerships that promote sustainable practices.
As you evaluate potential custom injection molders, weigh their approach to responsible scrap waste recycling along with the answers to 5 Questions OEMs Must Ask Before Partnering With a Custom Injection Molder. Click the button below to download your copy of this valuable guide.