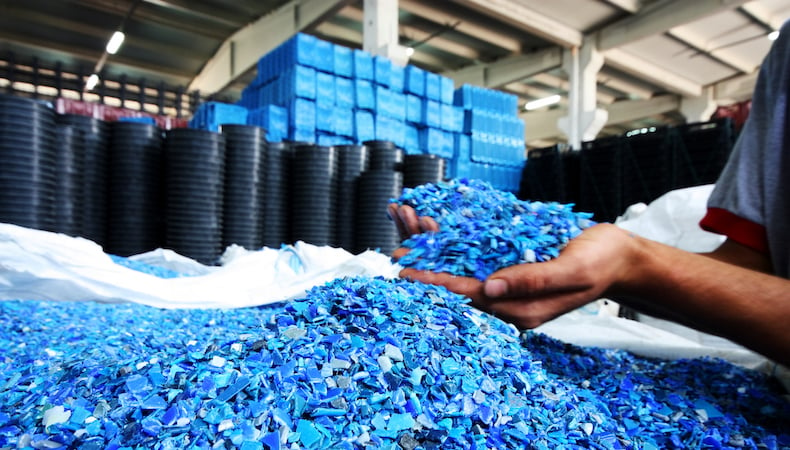 From excessive energy consumption and scrap to general resin use, the injection molding process has historically raised some ecological concerns. The alarm is neither surprising nor unique to injection molders or the industries they serve.
However, as some experts project that the earth may be mere decades away from environmental collapse1, there are important choices to be made.
PDK: A Resin for Sustainable Injection Molding
From a materials perspective, researchers are developing interesting new resins for sustainable injection molding. Poly (diketoenamine), or PDK, is being dubbed "infinitely recyclable plastic," and it could be a game changer for injection molding, industries, and the planet.
PDK offers all of the characteristics of traditional resins but with two important exceptions. It is not petroleum-based, and there is no quality degradation regardless of the number of times it is recycled — the opposite of conventional regrind.
Eco-Task Force: The Kaysun Green Team
PDK isn't yet available on a commercial scale, but that doesn't mean sustainability is at a standstill. When OEMs choose to work with molding partners that are committed to ongoing, eco-friendly practices, it influences many aspects of sustainable injection molding.
Kaysun understands that, as an injection molder, taking responsibility for green practices helps our partners, our facilities, and our planet. Corporate social responsibility is one of our core values. These efforts extend to and empower the Kaysun Green Team, which is primarily tasked with:
Reducing/reusing/recycling wastes generated from manufacturing and administrative functions
Reducing the Kaysun facility's carbon footprint
Creating a culture of "green" thinking and behaviors to support and promote environmental consciousness
The focused Green Team mission drives initiatives that, in the short-term, include three measurable goals around waste, energy consumption, and carbon impact:
Lofty goals, to be sure, but the impressive results compiled from 2018 through the end of 2020 suggest that we're on-track to meet — and possibly best — the numbers:
1,336,461 pounds of resins diverted from landfills

Waste material diverted from landfills is sent to Convergen to process into fuel pellets which translates to a 70% reduction in greenhouse gases entering the environment.

Replacement of inefficient air conditioning systems, production equipment, and lighting reduced facility energy consumption by 18%-70% (depending on operational area)

Replacement of water fill valve sensors and cooling water tower reduced water consumption by 55-60%, and water demand by 44,100 CF-352,400 CF (depending on operational area)
The earth is a finite resource. Coming to terms with the enormity of that reality spurs action at the decision-maker level for OEMs regarding sustainable injection molding. Which suppliers do we align with? What positive steps is our injection molder taking to care for our projects and our planet? How can we find a custom injection molding partner that shares our vision for greener production that doesn't compromise standards?
Kaysun is the answer for many OEMs who grapple with these types of questions. Decide for yourself using the assessment guide, 5 Questions OEMs Must Ask Before Partnering With An Injection Molder.
SOURCE
1Palo Alto Online, How Much Time Do We Have Left?, July 12, 2020