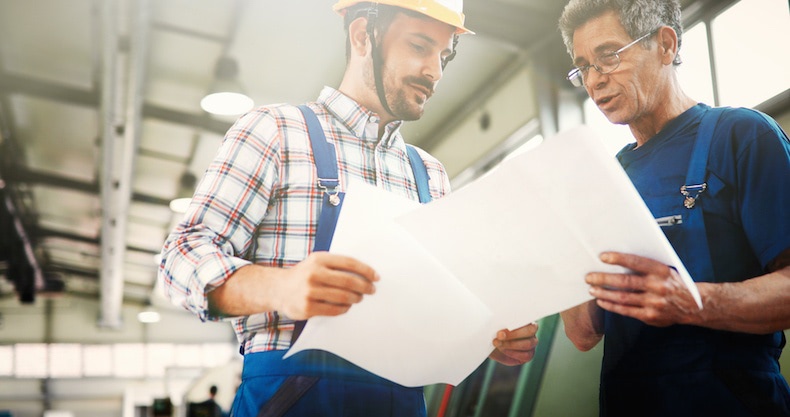 OEMs regularly face an important decision: use a supplier from overseas or partner with a US-based supplier.
Why is this so important? Because if your supplier is somehow incapacitated and deliverables are delayed, your orders go partially or wholly unfulfilled. That has a negative ripple effect on your customers and your reputation. This is evident from Thomas' March Industrial Survey, which saw a reduced desire from US manufacturers to source internationally (43% in February to 34% in March), and increase in those looking to source from North American manufacturers (47% from 43%).
Many manufacturers, especially during the challenging and uncertain days of Coronavirus, are searching for reliable, US-based suppliers with a proven track record of success.
Here are three factors OEMs should consider when selecting a supplier:
1. Quality and Cost
Using high-quality plastic parts is always the goal. But until recently, you may not have fully considered how a supplier misstep or a process slip-up could hurt a project. Partnering with an experienced custom injection molder helps OEMs maintain standards that keep quality the focus of every project.
United States manufacturers may cost more upfront, but there's an underlying quality in place that helps OEMs sleep at night.
An overseas supplier typically is seen as a low-cost sourcing option, and partnering with a reliable, US-based injection molder involves an upfront investment. Yet, know that the more resources you devote to product development on the front end, the greater the cost efficiencies downstream: part consistency and reliability, minimal rework, production line flexibility, dependable on-time delivery, and more.
When lifetime value of parts and components is considered, domestic sources' quality and durability outlive other options, providing greater long-term cost-efficiency.
2. Risk Mitigation
What happens when a supplier can't satisfy their obligations, and there's a supply chain disruption? Of course, there's no way of predicting every possible scenario that could occur between an order's placement and fulfillment. Yet, partnering with a supplier that's aligned with what you expect in terms of reliability, cleanliness, and responsiveness goes a long way.
Reliability
When you need to know that a part or component will function in complex and potentially life-saving applications, it's wise to lean more heavily on a US supplier. The answers to these questions may be apparent when auditing suppliers and speak to their reliability:
Are they flexible enough to be responsive to my needs, especially after an unforeseen impediment jeopardizes my on-time production schedule?

Will they work with me to ensure seamless quality, consistency, and fulfillment?
Do they have a reputation for doing whatever it takes to get the job done?
Responsiveness
No one is perfect. No supplier relationship is perfect, either. Having a dedicated partner that's responsive to your needs is irreplaceable, and it could definitely mean the difference between meeting or missing production deadlines. So, don't forget to consider this criteria when evaluating potential injection molding partners.
Cleanliness
The strong regulatory environment in the US emphasizes cleanliness and sanitation. Few other countries hold themselves to these standards. Plus, when your injection molding partner holds certifications (such as MedAccred in the medical device industry) you know that they meet regulatory requirements, which reduces your risk.
3. Engineering Support
Expert injection molders provide a wide variety of engineering support through Design for Manufacturability (DfM) analysis, which defines opportunities for reducing costs, improving manufacturability, and increasing speed to market.
Looking high-level, DfM aligns engineering and production in the initial design phase so potential problems can be identified and resolved before they result in costly rework. When you consider DfM for injection molding, reliable injection molders will also have scientific molding capabilities and offer additional engineering support.
Can you count on your supplier to go the extra mile and provide value-added services that truly make a difference? Working with suppliers — that are vertically integrated and provide multiple services — shortens an OEM's supply chain, reducing risk and improving cost efficiencies.
RELATED: Not sure how to evaluate an injection molder's ability to provide these services? An injection molding audit checklist can help narrow the field.
Risk vs. Reward
OEMs will always have risk vs. reward decisions to make. Having a reliable sourcing partner goes a long way in instilling the confidence manufacturers need to get the job done, and done right, especially in the wake of unexpected events such as the Coronavirus.
If you're looking to reduce risk with products coming from your current supplier, now's the time to capitalize on using an experienced US-based injection molder. Take advantage of their focus on quality, ability to tackle complex designs, and their wealth of engineering resources.

Learn more in Custom Plastic Injection Molding For Complex Applications. This eBook covers types and benefits of different molding methods, optimizing the process, project suitability, common technologies, and selecting the right partner. Click to get your copy now!