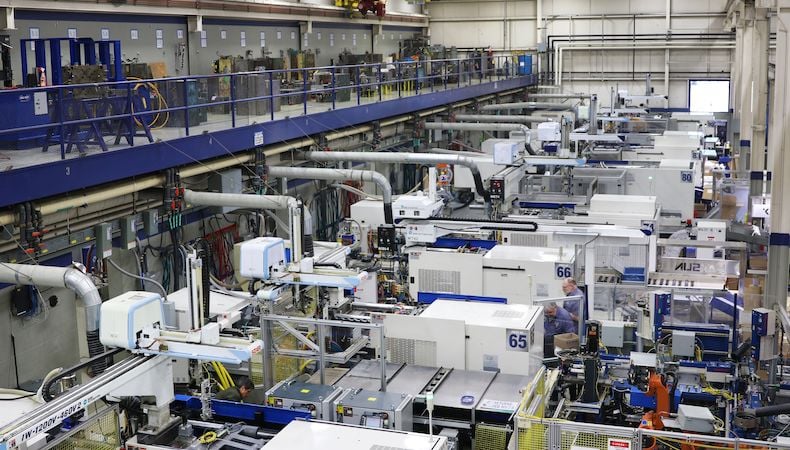 The first injection molding process of the 1800s was run on manual machines and was itself very basic. Plastic was forced through a heated cylinder and into a mold using a plunger. Pressure and time were the main predictors of success, but it was dubious. There was no consistent way to measure the manual process of squeezing plastic into the shape of the mold.
The 1940s saw the advent of the extrusion screw injection molding machine. It revolutionized the injection molding process and, ultimately, injection-molded part quality.
In short, operators had greater control over how to fill, pack, and hold plastic. Too little fill? Apply more injection pressure. Too much fill? Apply less injection pressure. Once the fill and pressure were adjusted, time took over as the plastic was held in the mold until it solidified.
As pumps further mechanized injection molding, the fill-pack-hold technique was accepted as the injection molding standard until the 1970s. Advancements in the study of rheology revealed how material flow impacted injection molding.
By separating the fill and pack stages, more sophisticated molding could take place. Termed "Decoupled Molding," the method provides many advantages for today's injection molders and complex applications.
What is Decoupled Molding?
Decoupled molding is an injection molding method for separating the filling and packing stages. This is the direct opposite of traditional molding, wherein the two phases are run concurrently.
There are three recognized stages of viable Decoupled Molding, each with its own approach:
Decoupled I
Encompassing the initial concept from the 1970s, this stage focuses on cavity pressure, holding pressure, and its interaction with molten raw material. Although considered separate processes in this stage, filling directly impacts packing because of the reliance on pressure.
Decoupled II
By separating the filling and packing stages, operators have better control over two critical factors: fill rates and packing pressure. Regulating fill rate velocity is essential. Initial fill can happen quickly; however, slowing velocity at the end of the fill gives the plastic a brief period to settle into the mold prior to packing. The transition prevents part defects such as flash, and ensures faster, consistent production.
Unlike the fill stage, packing isn't dependent on speed, and it isn't mutually exclusive of the hold stage. Pressure and time are the main factors operators control for proper molding and high-quality, defect-free parts.
Decoupled III
Filling, packing, and holding are three distinct steps. This allows for variable speed filling for certain injection-mold part geometries. Additionally, packing pressures are maintained at set points to control the absorption of molten plastic inertia. Once the mold is filled, the third step — hold — is implemented to keep the molten plastic from flowing into and blocking gates.
4 Advantages of Decoupled Molding
Decoupled molding offers molders better control over the injection molding process. In turn, manufacturers benefit from working with a molder skilled in decoupled molding, with potential time and cost savings realized through:
Reduced cycle times: Filing and packing are treated as separate processes and, as such, can make injection molding cycle times faster
Process repeatability: Separating the molding steps leads to production consistency and reliable, repeatable processes across runs
Part quality: More control over the injection molding process means more control over outcomes. Plastics viscosity slows and flow rates improve as fill rates speed up due to molecular realignment within the plastic material. The molten plastic is easier to manage, and finished part quality is typically elevated
Less scrap: The precision of Decoupled Molding minimizes variabilities in process and outcomes. Generally, there are fewer defective/rejected parts and less plastic waste
Decoupled Molding is a proven method for streamlining the injection molding process without sacrificing quality, time, or budgets. Further leverage the efficiencies by partnering with an injection molder with Decoupled Molding expertise backed by a number of in-house capabilities. Explore more using our tip sheet Injection Molding Project Considerations Part 2: Production. Click the button below to download your copy now.
DECOUPLED MOLDING is a service mark of RJG, Inc. For style purposes, it's referred to in this article as Decoupled Molding.