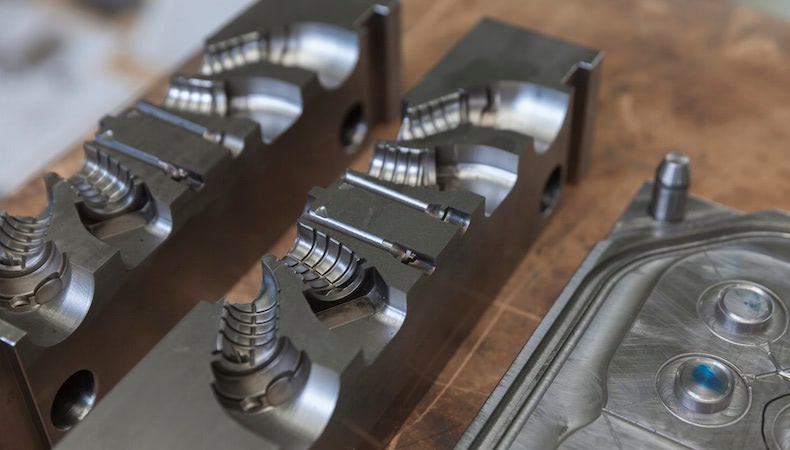 Injection molders typically rely on outside mold builders to custom-build molds for their clients. Molds rarely arrive with perfect dimensions; typically, after the mold is received, checked out, and tested, adjustments need to be made to the mold to assure all design specifications are met. For most injection molders, this requires sending the mold out for those final adjustments, which burns up a lot of valuable time. Kaysun, however, has the ability make these adjustments in-house and "fine tune" molds after initial sampling to modify the mold core/cavity geometry and achieve the desired dimensions.
Kaysun's experienced in-house toolmakers are skilled in using the latest tool-making equipment, such as electrical discharge machining (EDM) and computer numerical control (CNC). Steel-safe (slightly larger than the specifications required) domestic and Asian molds are brought in and adjusted to the exact specifications. Most molders only have tool maintenance capabilities and rely on outside toolmakers for tool geometry changes.
Key Advantages to Having In-House mold-Contouring Capabilities
Faster and more accurate communication and decision-making

Fewer adjustment iterations required

More control of mold shop schedule leading to faster project execution

Fewer mistakes

Lower costs
Sending the mold out for fine-tuning usually results in additional adjustment iterations, compared to doing the work in-house. Depending on the complexity of the part, a single iteration can cost from $1,000 to $10,000. What is especially painful, however, is the lost time—each iteration takes between three and five weeks. Other costs that add up include mold transportation, toolmaker fees, sampling costs, and inspection costs. Below we explain what the core competencies are of executing those tooling adjustments in-house through our own process.
Kaysun's In-House Mold Contouring Process
1. Receive the mold from the outside source (foreign or domestic) in steel-safe condition.
2. Set up the injection process utilizing scientific molding methodology.
3. Measure parts (including capability studies, if needed).
4. Change part and/or mold CAD model as needed. Our engineers and toolmakers have the ability to take the actual 3D mold design data and use it to modify the mold.
5. Fine-tune adjustments to the mold using EDM and/or CNC machines.
6. Final sampling, inspection, and submission.
Most molders do not have the ability to perform Steps 4 and 5 internally. They specialize in the molding process—not toolmaking, which requires skilled personnel and specialized equipment. The biggest advantage in working with an injection molder who can make final mold adjustments in-house is the huge project time savings. This accelerates time to market and saves money for the next product investment.
Take an even deeper look at how our processes, specialization and in-house capabilities can streamline processes and improve profits by downloading The ROI of Improved Project Flow: How Injection Molders Impact Outcomes below.