Overmolding Improves Quality and Versatility While Keeping Costs Down
Kaysun Corporation excels at challenging projects and technologies—that's why clients across a range of industries seek us out to learn how the overmolding process can enhance the functionality, performance, and appearance of their products.
This unique process is becoming popular among manufacturers who want to add a soft-touch exterior to their products that enhances grip or "feel" and also provides a stylish appearance that's attractive to consumers. Overmolding also reduces shock and vibration, dampens sound, provides electrical insulation, and improves chemical/UV resistance—which increases product longevity.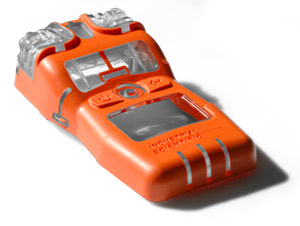 It's rare when an advanced technology improves product viability and customer satisfaction in so many ways, yet still reduces overall production costs—a big reason why overmolding is in high demand.
Total costs are lower because overmolding reduces the number of steps involved in making the product. Because the soft-touch layer forms such a strong chemical bond with the underlying surface, it eliminates the need for some secondary finishing operations such as priming, painting, or coating. By combining these steps into a single injection molding process, overmolding increases quality, reduces waste, boosts throughput, and decreases overall production cost.
Overmolding is an advanced science that requires special training, proper design and material selection, detailed knowledge of material chemistry and behavior, and advanced equipment with multiple barrels that can shoot multiple materials into the same mold with the highest precision—all of which must be carefully controlled and monitored in real time.
Thermoplastic elastomers (TPEs) are typically used for the overmolded soft-touch layer. Engineers and suppliers are continuously developing new TPE materials with expanded capabilities that give Kaysun Corporation and our clients more versatility in product design, material combinations, and application possibilities. This allows companies to be more competitive in the marketplace and to keep up with important consumer trends, especially the demand for attractive-looking, stylish devices and products that also provide better ergonomics and comfort.
If you are looking for information on overmolding, download our whitepaper or give us a call and we'll be happy to answer your questions. If you have a project that's ready to go, our engineering and design teams will work closely with you to deliver a final product of outstanding quality, durability, and aesthetic appeal that meets all your design and production goals.