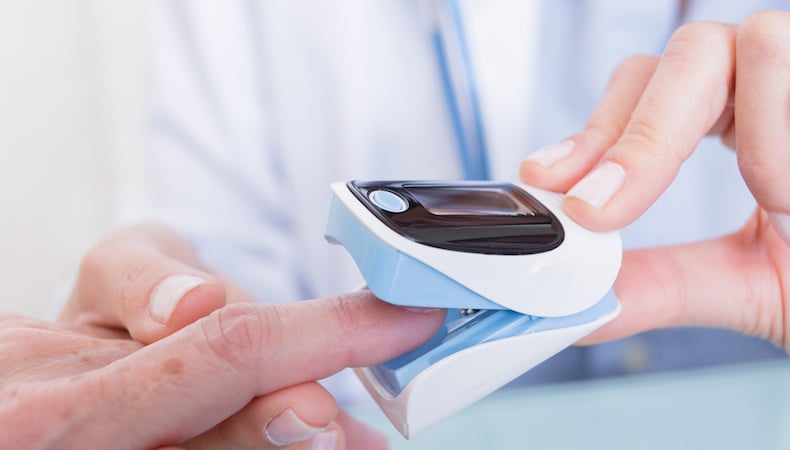 Popular across many industries, overmolding may initially appear to simply enhance the aesthetics of a device, adding a contrasting color or texture. However, overmolding's lightweight functionality also elevates ergonomics, deadens vibration, and improves a device's grip and feel.
The result — especially in medical devices — is a product that's easy to use and withstands impact, abrasions, chemical reactions, and changes in temperature and humidity. Plus, overmolding perfectly meets a critical need within the medical world: the use of handheld, digital devices.
Most of these devices are made from two kinds of durable plastic — inside is a molded plastic frame for strength and rigidity, while outside plastic provides a precisely engineered look, a distinctive shape or contour, a bright color, and a slightly soft, tactile surface that's tacky enough to prevent slipping and sliding.
Plastic overmolding seamlessly combines multiple materials into one part or product to improve design, performance, and aesthetics.
The Plastic Overmolding Process
Simply put, overmolding is partially or fully covering a base substrate of plastic with a thin overlain material — often a thermoplastic elastomer (TPE).
The overmolding process involves two separate molding operations and two separate tools. The base substrate is molded first on its own. To make the final part, the substrate is placed into an overmold tool, where the mold closes over the substrate, material is injected, and the final part is packaged.
The result is an injection molded plastic product with a comfortable, non-slip grip, enhanced durability, impact resistance, and ergonomics without a "plasticky" feel. Overmolding offers a means of producing highly intricate pieces that would be too difficult to make in one injection molding process.
4 Examples of Overmolding in Portable Devices
1. SURGICAL INSTRUMENTS AND DEVICES
In the operating room, devices need to function at peak performance. Overmolded handles on surgical instruments provide a surgeon with a comfortable, ergonomic grip for optimum precision. Portable monitors and other overmolded items must be able to withstand harsh cleaning agents, autoclaving, and other environmental factors (radiation from scans).
Surgical devices also need to meet FDA medical requirements. Select grades of TPE are chemical resistant and fit well in these applications.
2. AED UNITS
Life-saving portable Automated External Defibrillators (AEDs) must be protected from impact, weather and many other threats. An overmolded TPE layer reduces shock, provides a watertight seal, offers UV resistance, and insulates the interior unit from abuses that occur in fast-paced emergency environments.
Special housing must be engineered and sealed to ensure that moisture or dust particles don't enter the battery chamber and cause corrosion. A qualified injection molder with plastics engineering experience and clean-room capabilities must be used to ensure compliance with FDA regulations.
3. ELECTRICAL APPLICATIONS
As an overmolding material, TPE is ideal for situations where electrical components must withstand the elements. Specially manufactured TPE gaskets expand to create a seal and restrict moisture from contacting electrical connections to prevent shock and fire.
4. COMMUNICATION DEVICES
The key to creating lightweight hand-held devices that EMTs use in the field is material selection. The proper chemical interaction/compatibility between the substrate and TPE is critical for bonding action to protect delicate inner electronics against fine dust particles, rain, shock, vibration, and other elements.
Overmolding can help achieve reliability and durability in two-way radios used for emergency personnel and other devices.
The Expertise Behind Plastic Overmolding
As hinted at above, it's essential to work with an experienced injection molder that understands the various chemical and environmental interactions between the molded resins and overmolding materials.
Special skills and experience are required to execute a multi-material injection molding process at high volume and with acceptably high manufacturing yields, particularly as it relates to material compatibility in overmolding.
For example, two plastics may have radically different physical properties, such as melt temperatures or how much they expand when heated. If there's a mismatch, the inner and outer layers of plastic may not fit together properly, or they will adversely affect each other, mechanically or even chemically.
The goal is to get the two molded plastics to bond together in such a way so as to produce a single item that has complete and long-lasting structural integrity. That's why great care is required throughout an overmolded product's design and manufacturing, ideally with upfront and ongoing involvement of an experienced custom injection molder.
Kaysun has an impressive depth and breadth of experience in overmolding, and we're dedicated to putting seasoned design, manufacturing, and assembly methods to work for our manufacturer partners.
For more information on using overmolding to improve the design, performance, and aesthetics of injection molded applications, download Overmolding Fundamentals for OEMs. Click the button below for your copy of this insightful white paper.