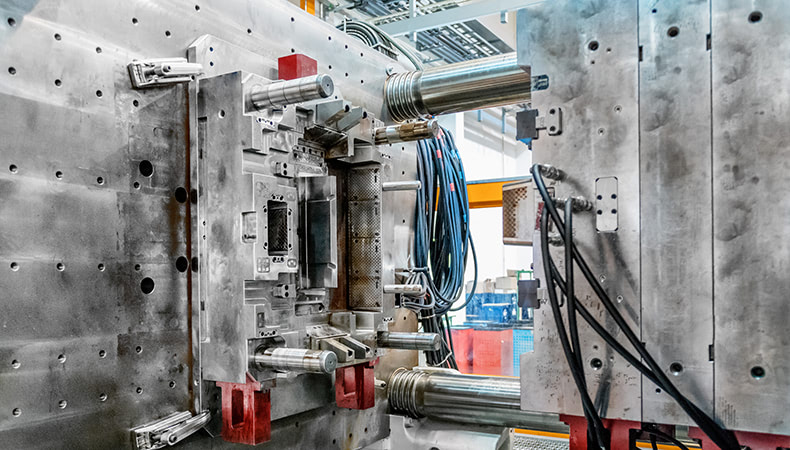 Since the type and characteristics of an injection molding machine influence project outcomes, you may think equipment selection is best left to the injection molder.
Undoubtedly a molder's input is key in aligning projects and injection molding machines. However, familiarizing yourself with machine basics will help you make better design choices, more accurately forecast project costs and production times, and even guide you to the injection molding partner best equipped to meet your needs.
Hydraulic, Electric, and Hybrid Machines
There are three types of injection molding machines, classified by the type of drive/motor — hydraulic, electric, or hybrid.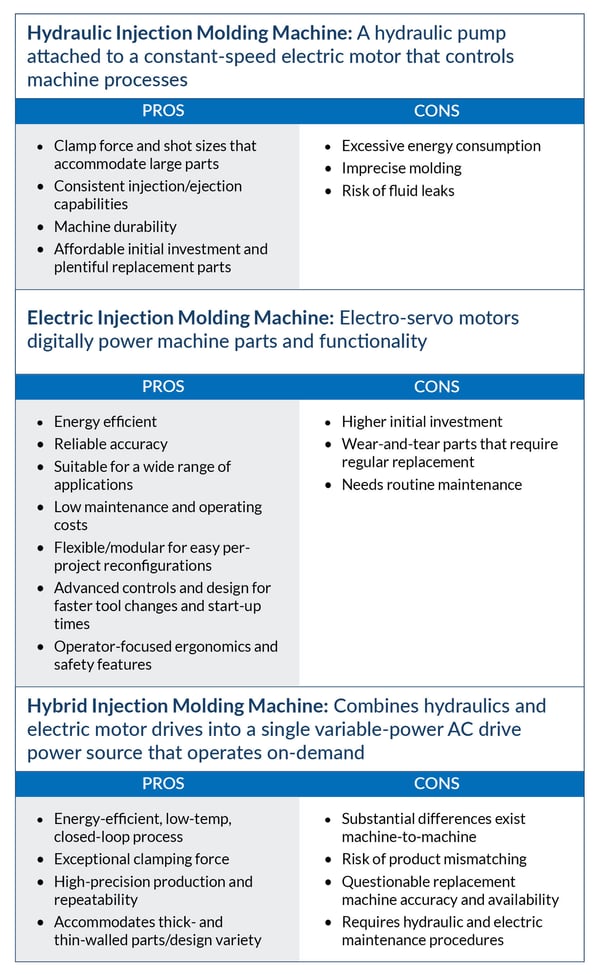 Weighing In On Tonnage
Each injection molding machine mentioned above is still in use today. Although each iteration introduced certain technological advantages, tonnage — the measure of force that is required to keep the tool closed during the injection process — remains the main factor in determining the injection molding machine size required for producing the part.
Sizes can run from under 5 tons to more than 4,000 tons. With such a wide range of possibilities, tonnage calculation is a necessary and pivotal step. Finding the proper tonnage range takes the area of the part, type and viscosity of the plastic, and a "clamp factor" into consideration. Some molders do this by using an estimation equation that's generally accepted in the industry. Others — including Kaysun — perform mold filling analysis to arrive at the answer. The latter is preferred because accuracy is paramount. Tonnage that is too small leads to quality issues and delays; too large and tool costs could quickly escalate due to premature deterioration.
Sizing Up Your Injection Molder
Given all of the variables in projects and injection molding machines, there is no "one size fits all" solution. Working with a molder that has limited knowledge of, experience with, and access to a breadth of equipment could jeopardize your project — and profits.
Kaysun has horizontal and vertical machines ranging from 35 to 940 tons, with a concentration on precision electric models. We're equipped to provide the solution you're looking for and the design, engineering, production knowledge, and processes you need to make your project successful.
Kaysun keeps up with the latest injection molding machine technologies so our customers have the most efficient, suitable options available. It's a value-add that augments our customer relationships and helps guide pre-production decisions, much like the information you'll find in The Process of Scientifically Qualifying a Tool. This easy-reference infographic delves into tooling performance and how it impacts projects in the short term and long term. Click the button below to access your copy now!