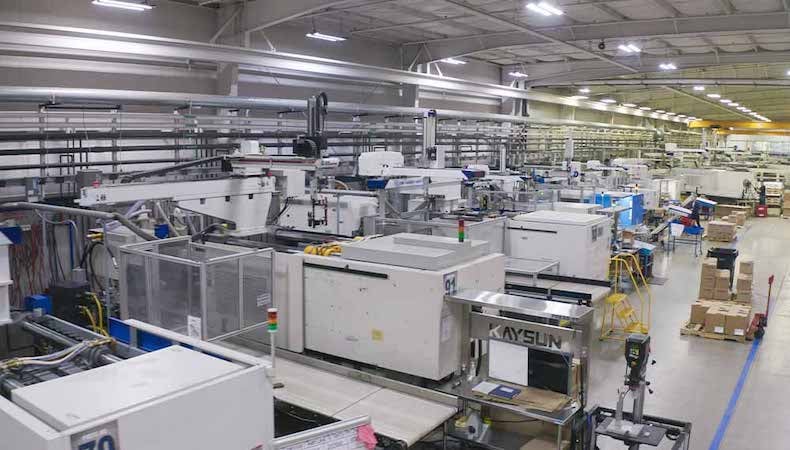 As the future expands for Kaysun Corporation, so does the facility. July 2022 marks what CEO Ben Harrison calls "an exciting milestone." The company is breaking ground to add 55,000 square feet of manufacturing space to its existing facility over the course of about 8 months.
Major markets that Kaysun serves — primarily medical, automotive, and industrial — are experiencing upticks in product development and demand. In turn, Kaysun is being called upon by OEMs to produce more injection-molded parts and components. Order volume and fast turnaround times pushed the limits of Kaysun's current plant capacity, necessitating the change.
"Our customers are always our focus," said Harrison. "Adding 55,000 square feet to the plant ensures we consistently deliver the quality parts, service, and trusted relationships Kaysun is known for."
Thriving in Manitowoc
Kaysun has been a proud community partner to the city of Manitowoc for 75 years, and the expansion signals continued commitment to the community. It brings with it a projected 75 new jobs over the next few years, which benefits area workers and the local economy.
Kaysun's culture of corporate social responsibility is also bolstered by the facility addition. Environmentally friendly decisions were incorporated into building plans, including natural and LED lighting and energy efficient heating, ventilation, and air conditioning.
A Winning Team
Current Kaysun team members are delighted with the changes and what they mean for the future. "We've received such a positive response from our team about how Kaysun is evolving," Harrison said. "To see everyone share in our vision and this milestone is extremely gratifying. It really speaks to the quality of people we have throughout the company."
Accommodating project capacity is a growth driver for the Kaysun expansion, and it also speaks to the level of trust Kaysun has earned from its OEM partners. Determine if Kaysun aligns with your current and future needs using our guide, 5 Questions OEMs Must Ask Before Partnering With a Custom Injection Molder. Click the button below to download your copy now.