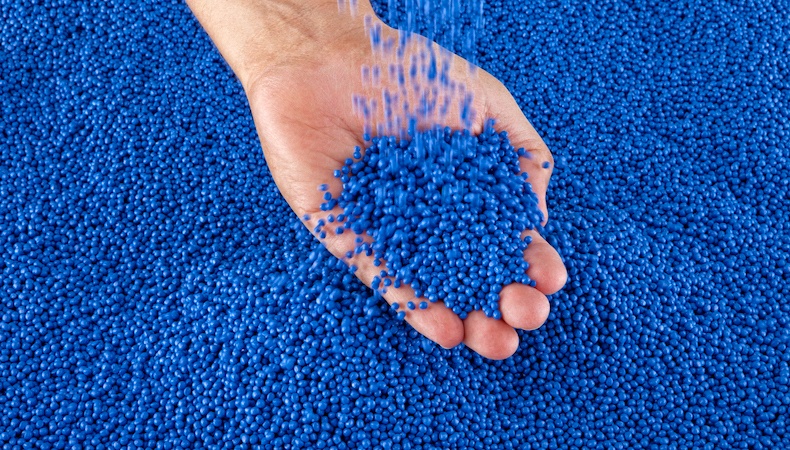 In Part 1 of our short blog series, we discussed the differences between today's thermoplastics and liquid silicone rubber (LSR) thermoset resins, as well as their common advantages, disadvantages, and applications. In Part 2, we'll talk about some of the up-and-coming plastic materials making their way onto the injection molding scene, specifically carbon fiber composites and bioplastics.
While thermoplastics have been around since the WW2 era, both bioplastics and carbon fiber composites are relatively new materials, just recently being optimized for injection molded plastic parts with higher production volumes in a wider variety of applications.
To further explain the growing demand for these new plastics today, look no further than these key trends and advancements:
Carbon Fiber Composites
Manufacturers' demand for lighter, stronger materials has brought about significant advancements in carbon fiber composites, and as a result, special polycarbonate-based, carbon fiber-reinforced thermoplastics are now being used in a broader variety of applications. The automotive and aerospace industries have been the biggest drivers of increased use, as carbon fiber composites are about 40% lighter than the typical materials, and offer significant fuel savings advantages. Despite being half the weight of steel, carbon fiber composites have shown to be four times as strong.
Outside the automotive industry, advancements in material science are making it easier for manufacturers to incorporate composites in their plastic part designs as well. From medical equipment to electronics and even luggage, carbon fiber composites are now available to OEMs at a relatively low cost to comparable materials, and can be used in production to shorten cycle times and produce high yield rates.
There have also been significant improvements to the production process of carbon fiber composites, with new technologies being developed to slash the energy used in carbon fiber production by 75%. Technologies have also been developed to reduce the cost of producing carbon fiber so that it's 50-60% less expensive than current competing materials, and are expected to be more widely available sometime this year.
Common Carbon Fiber Composite Advantages:
Extremely lightweight
High tensile strength (one of the strongest commercial materials available)
Durable
Low thermal expansion
Corrosion resistant
Ultra-violet resistant
Ability to fusion weld carbon composites
Highly consistent
Common Carbon Fiber Composite Disadvantages:
Current high production cost
Significant amounts of carbon fiber needed for large projects
High tooling cost
Common Applications for Carbon Fiber Composites:
Airplane fixtures and other aerospace components
Automotive parts and body panels
Electronic enclosures
Bicycle frames and parts
Military equipment and safety gear
Bioplastics
As the demand for plastics continues to grow, many eco-minded manufacturers are turning to environmentally-friendly bioplastics and recycled plastics to use in their applications, including plastics derived from natural materials like corn starch, soy, and seaweed. In fact, the global market for bioplastics is predicted to grow by 20% over the next five years, fueled by stronger policy support and increased consumer awareness and demand for more sustainable products and packaging. Biopolymers like polylactic acid (PLA) and polyhydroxyalkanoates (PHAs) are key drivers of demand, along with bio-based, non-biodegradable plastics like polyethylene (PE), and bio-based polyamides (PA) and polyethylene terephthalate (PET). While packaging makes up nearly 60% of all current bioplastic applications, improvements to bioplastic quality are allowing it to be more frequently used in textiles, consumer goods, automotives, and in the agriculture sector as well. Future bioplastics will perform even more similarly to today's conventional plastics, and have even less of environmental impact.
Common Bioplastic Advantages:
Made from renewable energy sources
Less impact on the environment than traditional plastics
Design flexibility
Supported by large corporations (leading to positive future development)
Common Bioplastic Disadvantages:
Not all bioplastics quickly decompose or can easily be recycled
Decomposition of bioplastics produces methane gas
Shelf life is limited
Disturbs existing recycling methods
Common Applications for Bioplastics:
Food and product packaging
Electronic device casings and parts
Automotive parts and panels
Personal hygiene products (toothbrushes, razors, etc.)
Wearable devices
From carbon fiber thermoplastics and composites to bioplastics, there are a growing number of plastic material options available to today's manufacturers, each getting more sophisticated by the year. I hope the tips in this short blog series can be of assistance during your plastic material selection process, and as always, don't hesitate to contact Kaysun if you have any questions! You can also download our Industrial Material Selection guide for more tips and tricks for determining the ideal material for your application.