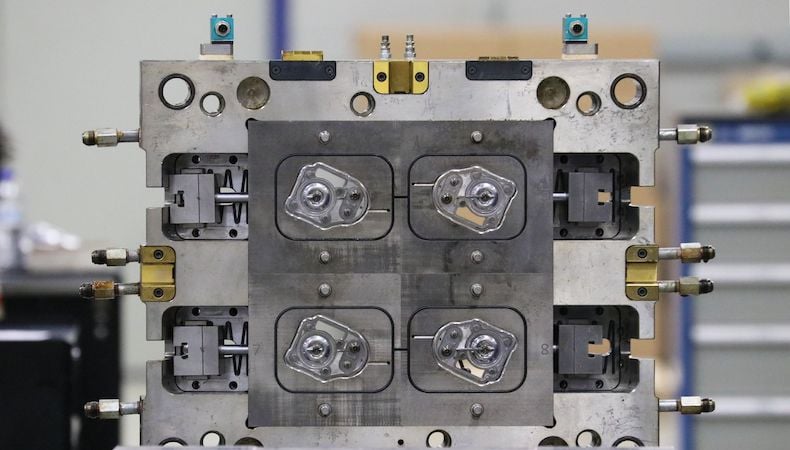 Custom injection molding projects are understandably focused on plastics selection. After all, the materials used to construct the parts have the greatest influence over quality and performance.
However, the grade of injection molding tool steel chosen for production also has a major impact on project outcomes. Cycle times, part criteria, production volume, cost, and maintenance expectations all must be factored in to align the steel with the need.
Overlooking this step or not properly understanding the interrelationship between the material being injection molded and the material doing the molding could be a costly error. Waste, defects, re-runs, and line time can mount quickly.
The question becomes not if injection molding tool steel matters, but which is the best choice for your project.
P-20 Pre-Hardened Tool Steel (28-30 RC)
Widely known as the general purpose tool steel for injection molding, P-20 is a solid performer that:
Can be cast and put directly into service

Typically does not require further heat treating

Is versatile — it's common for P-20 to be used in prototypes and holder blocks in addition to tooling

For all of its advantages, P-20 also has some challenges including not being able to meet ASTM-A681 minimums. Chiefly, it is best used with plastics that do not contain abrasives like glass fibers. There are also concerns around volume; P-20 that is not coated or surface-hardened will not stand up to high-volume production.
S-7 Pre-Hardened Tool Steel (56 RC)
If your injection molding project requires tight tolerances and high volumes, S-7 is the pre-hardened tool steel of choice.
There are few, if any, downsides to S-7, and the upsides are considerable:
Stability during heat treating, and resistance to softening at high temperatures

Excellent wear properties, which are especially important when preventing galling in slides and lifters

Good impact and shock resistance

H-13 Tool Steel
High-volume runs of plastic parts that contain abrasive materials are no match for H-13. This robust tool steel offers:
Versatility in hot work and cold work applications

Resistance to thermal fatigue cracking

Excellent strength and machinability

Eventually, H-13 tooling surfaces will become susceptible to corrosion brought about by chemically enhanced plastics, moisture, humidity, and cooling water contamination.
420 Stainless Steel
Containing 13% chromium, 420 stainless steel is a high-quality tool steel that's preferred for custom injection molding. The high carbon content provides:
Maximum corrosion resistance when fully hardened

Excellent wear resistance and edge retention

The highest hardness among all stainless steel grades

420 stainless steel is relatively easy to machine unless hardened above 30 HRC. Also, if used in temperatures that exceed the relevant tempering temperature, mechanical properties are reduced.
Specialty Tool Materials
The design and manufacture of steel tools are a considerable piece of a project's budget. While a worthy investment, there are certain situations wherein tools designed using specialty materials may be appropriate.
Tools made from specialty materials with high thermal conductivities can reduce overall production costs by about 25% compared to standard steel tools. If you're interested in speeding up the cooling process of your next project, consider using tools made from specialty materials with high thermal conductivity, like MoldMAX®, aluminum, or tungsten carbide.
Injection molding tool steel is a carefully measured consideration in any custom injection molding project. Working with an experienced molder like Kaysun will provide balance in materials selection, and give you the most value for your tooling dollar. Explore how to maximize your options in our white paper, 5 Key Considerations when Comparing Tooling Quotes.