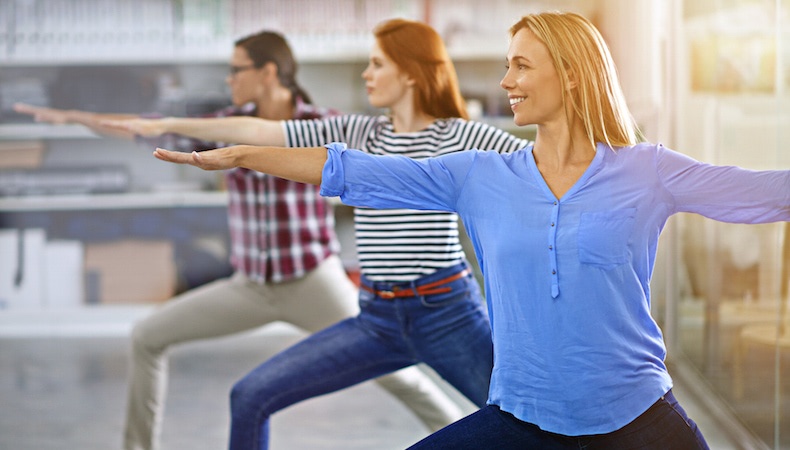 Ten years ago, few companies were focused on helping their employees enhance their health or wellness. Today, according to the Society for Human Resource Management (SHRM), 76% of companies surveyed said their company offered some type of wellness resources to employees. The impetus for developing and offering these benefit programs was primarily the desire to reduce rising health insurance costs, as well as the growing competition for workers — and now it's evolved into a benefit many employees expect.
Wellness Programs Offer a Competitive Advantage
The majority of employees are jumping at the chance to take part in health initiatives. Fifty-five percent of those looking for jobs say they're somewhat likely to accept a job with lower pay, if offered better benefits; 53% said they'd participate in a workplace exercise program if it lowered the cost of their health insurance (2016 Aflac Workforces Report).
How are wellness plans working? According to Forbes, they've been shown to deliver an average return on investment (ROI) of about 3:1 – for every dollar spent, health insurance and other costs are reduced by $3. Beyond just the direct financial gains, companies have seen reductions in employee sick days/absenteeism, staff turnover and overall employee stress.
Wellness at the Core of Our Business
Our employees' health and wellbeing is important to them, so it's important to Kaysun. As a premier Wisconsin manufacturing employer, we've developed a robust program that helps employees set and achieve health-related goals, from losing weight and reducing blood pressure to becoming more active and reducing stress, or simply improving their nutrition. Here are a few of the ways we're doing that today:
Health risk assessments

that help employees benchmark a variety of health metrics and work throughout the year on improvement areas

An onsite

fitness center

that's outfitted with a variety of exercise equipment; we also offer training on how to properly use the equipment

A

gym reimbursement program

to offset employees' membership costs, and a partnership with the local YMCA to offer reduced fees to use those facilities

Outdoor workout spaces

, including a three-quarter-mile fitness trail, with a variety of workout stations. The trail is available for use to both employees and their families

Onsite group exercise and yoga classes

instructed by a professional

A health incentive program

in partnership with an insurance provider that reward certain wellness-related achievements

Standing desks

have replaced a number of sitting desks for employees eager to take advantage of their benefits; we also encourage walking meetings and breaks

Entry-fee reimbursements

for wellness events like races

Flu shots

,

tobacco cessation classes

and wellness/nutrition

education and coaching
Healthy food options

in our onsite cafeteria – subsidized by Kaysun to make them affordable
Employers today are finding that they can be a motivating force for people as they work to improve their lifestyles, and a resource for education, structure and accountability. Kaysun is happy to be a part of helping our employees lead healthy, happy lives, and we'll continue to enhance our wellness program to align with their evolving needs.
Interested in learning more about Kaysun as an employer? Visit our About Us and Careers pages for a list of current openings.