There is no question that manufacturing complex parts takes injection molding to a much higher level. More knowledge, skill, and expertise are required, as well as sophisticated infrastructure, equipment, and environmental controls. Even though they may not always be in demand, these extended capabilities are always available at Kaysun to quickly meet the changing needs of clients, including short production schedules.
It starts with our facility, which is fully air-conditioned to maintain optimum temperature levels—ambient temperatures, and especially humidity, which will affect raw material properties. Maintaining a stable, injection molding climate reduces the environmental impacts that fluctuating temperature can have on operations. Our building is also designed to optimize material flow, from raw materials to finished goods—this improves overall productivity and enables faster/easier mold changes.
Key pieces of equipment in our manufacturing area are high-end Toyo electric presses, which provide better repeatability and more control compared to the more common hydraulic presses. The increased precision and repeatability electric presses provide—for example, a positioning accuracy of ±0.0001 inch—are ideal for complex parts. Other advantages of electric presses include:
Energy savings from 30-70 percent
Injection speeds up to 800 mm/second or higher, with faster clamp motion
Reduced scrap rates
Faster responses—for example, acceleration/deceleration times as little as 0.2 milliseconds
Ability to overlap screw recovery and clamp movements, for up to 20-percent faster cycles
Faster start-ups and shorter times to achieve a stable process
Lower maintenance with no oil to clean and maintain
Quieter operation (< 65 dbA)
Cleaner conditions (no oil) for clean-room medical and electronics molding
Although electric presses can be up to 20 percent more expensive than hydraulic presses, they are worth the investment because they are better for meeting customer needs—especially for precision and speed. Kaysun continuously updates or replaces older machines so we always have the most advanced equipment on the floor.
Automation and robotics are also essential for state-of-the-art injection molding. Six-axis robots can perform a wide range of applications with high precision, including welding, material handling, injection molding, assembly, cutting, drilling, painting, deburring, and polishing. Robots speed up production, reduce cycle times, improve quality (no human error), and improve worker safety and productivity. Robots also make it easier to validate manufacturing processes for customers and regulatory agencies.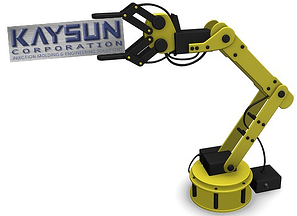 Our sophisticated equipment also creates the technology base needed to support "scientific molding"—a manufacturing discipline that is increasingly in demand by OEMs. Scientific molding uses sophisticated data collection and analysis techniques to document the specifications, settings, and steps required to ensure reproducibility over time and across equipment. This requires a combination of knowledge, experience, analytical skill, and the proper equipment and tools.
Scientific molding is applied across all phases of part manufacturing: design of the part, design and building of the tool, debugging the tool, material selection, and the injection-molding process. Important scientific data—including temperature, pressure, material flow rate, material chemistry, cooling time and rate, material moisture rate, fill time, and mold conductivity—are all monitored in real time. Digital in-cavity pressure readings reveal what is happening inside the mold during the injection process. Mold deflection sensors can resolve issues regarding parting line flash, part dimensional changes related to mold deflection, clamp force, and mold robustness, as well as ensure correlations of part characteristics to key molding variables.
If you are considering an injection molder, be sure the candidate has the capabilities needed for making your complex parts. This includes depth of knowledge, the right equipment, the willingness to invest in itself, and being able to respond quickly. Before making a final decision, visit its operations and see for yourself. If you'd like to tour our state-of-the-art facilities, just Contact Us—we'd be happy to show you around. Download our Whitepaper that discusses Tight Tolerance Injection Molding below.